7 Social Media Processes you can Automate with Bannerbear
Here are seven ways you can automate social media promotion strategies with Bannerbear.
Social media never sleeps… and consequently, neither do social media managers and content creators.
Don't fear, automation is here to help! We've come up with 7 processes you can leverage to automate your social media presence, without clicking a button (Let's make automation work for you).
Social media is an incredible resource for brand engagement, awareness, and product distribution. In fact, each platform has its unique "niche" of audience and sentiment.
For example, Linkedin is strictly for business networking and promotion, and Instagram is reserved for lifestyle and image content.
There are infinite amounts of content distributed on the internet. From guides, to articles, blogs, and opinion pieces which are hosted on social media. The aim of each content piece is to drive traffic from the social platform to the website, and ultimately, convert customers.
Using marketing automation software can save time and resources, removing manual labour on repetitive tasks.
Here are 7 ways you can increase your social media presence without clicking a button!
1. Share new blog entries
Content is king. Content helps users understand the product they're buying, create comparisons and remove buyer's remorse. Moreover, it answers questions which builds trust and authority for your brand.
Additionally, content that is attractive and interesting is a great tool to drive users from a social media platform to your website, bringing in potential sales leads.
In fact, understanding which content leads to better traffic is a valuable insight to continue creating content that is attractive and relevant to your audience.
The main goal for content distribution is to drive your audience from social media to your website.
However, promoting new blogs onto each social media platform is time-consuming and repetitive.
Therefore, consider automating the process. With automation, you are able to create a workflow that promotes blogs on social media automatically.
In this case, you create a trigger that is launched each time a new blog is updated on your website. In turn, this trigger will autogenerate an image that will be uploaded and promoted on the respective social media site.
We have created a few tutorials to help you out:
👉 How to Autogenerate Images for New Ghost Posts (Step by step tutorial)
👉 How to Auto Generate Dynamic Open Graph Images in Hubspot with Simple URLs
👉How to Auto Generate Open Graph Images in WordPress
2. Promote new products on social media
New products are exciting! However, if you're running an e-commerce business it can be time-consuming to constantly update templates with new images.
The good news is… you don't have to!
With automation, you're able to create a workflow that automatically generates new banners for social media to showcase your new product!
Essentially, this means each time a new product is uploaded to your e-commerce site, all your banners are created for you, ready to use.
We have created a few tutorials to help you out:
👉 How to Auto Generate Social Media Graphics for your New Shopify Products
👉 Auto Generate Banner Ads via API
👉 Auto Generating Images with Integromat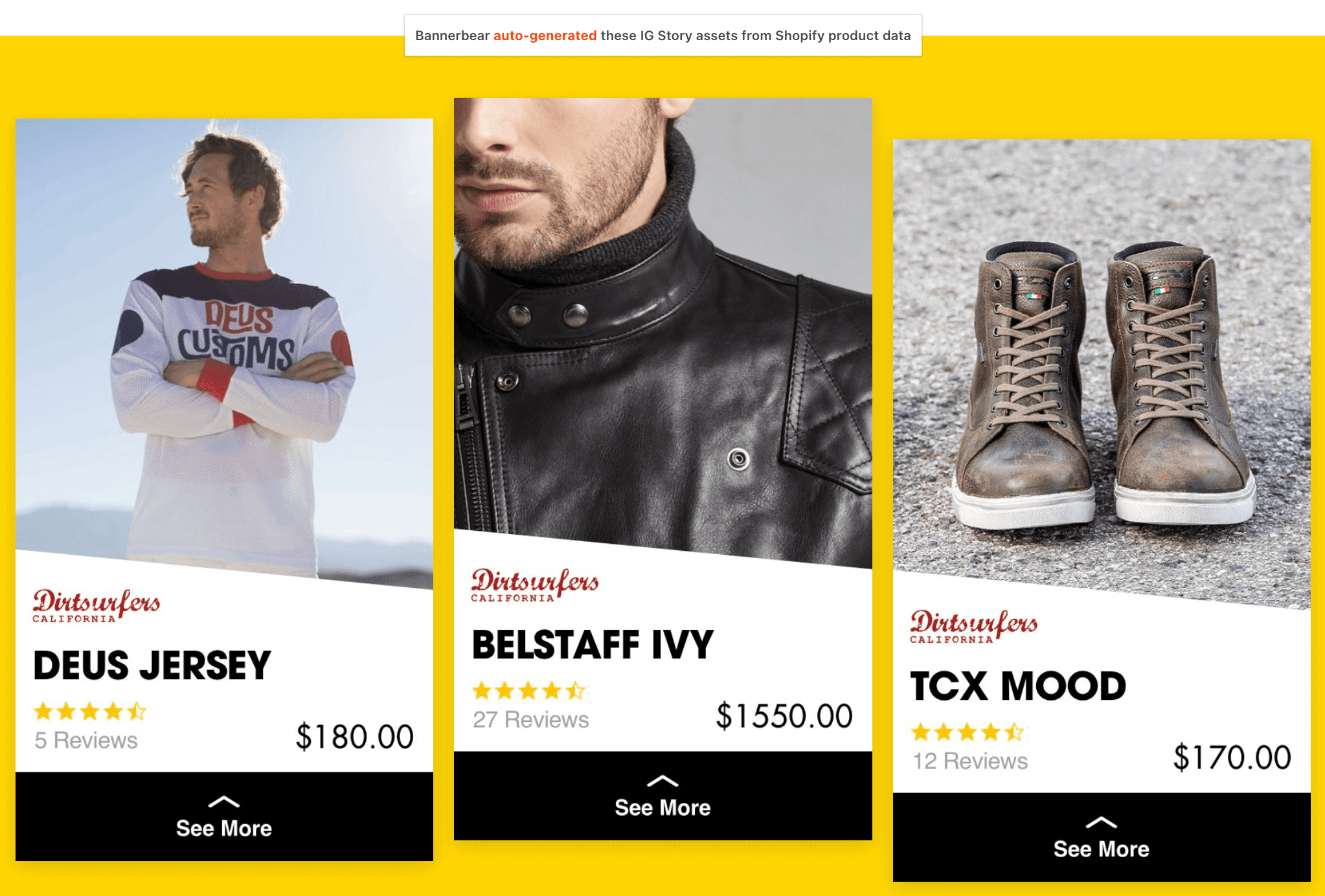 3. Auto-generate Instagram stories
Instagram stories are quick snippets of information that are able to convey new promotions, products and information.
Each instagram story is a new opportunity to drive traffic from social media to the website. Therefore, using automation to create new stories removes the routine tasks of creating the same routine stories.
The automation of Instagram stories should be reserved to content that is repetitive, and should not be the sole content promoted on a brand's page.
Here is a tutorial on How to use Zapier to perform automatic image generation.
4. Transform tweets into social media images
Twitter is a great platform to give and receive two-way feedback to followers and fans. In fact, most of the time there is valuable content found in tweets that can be cross-promoted on other media platforms.
For example, helpful reviews, advocating testimonials, or even new product updates that are communicated through Twitter are important to cement a brand's reputation.
Content created on Twitter can then be automatically repurposed as an image for other social media channels.
This means, you can effectively upload helpful content without spending time on monitoring new tweets, creating new twitter image cards, and uploading them. Instead, the process is done automatically.
We have created a few tutorials to help you out:
👉 How to automatically turn Twitter likes into visual quotes
👉 Thank New Followers with a Customised Image Card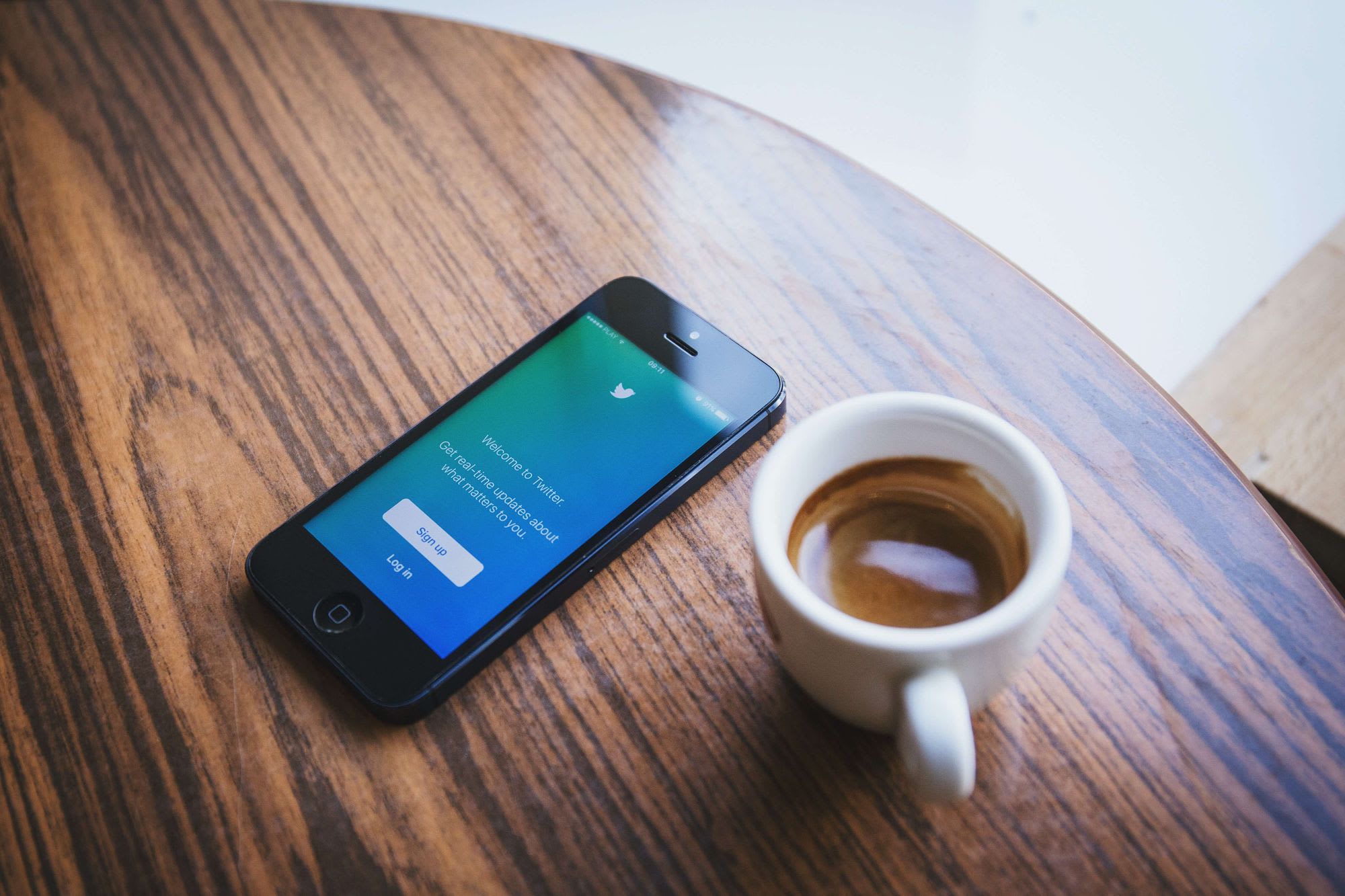 5. Autogenerate podcast clips for social media
Podcasts are taking the world by storm. Moreover, social media is a powerful tool to promote your new podcast, with 15% of adults in the US discovering new podcast shows through social media. A few savvy marketers have taken the new interest as an advantage and created podcast snippets to be promoted on Twitter.
Podcasts clips are especially valuable due to their availability to go viral. Fun and fast bursts of information that generate interest are an incredible way to broaden a wider audience and gain trust.
Automation can help create podcasts snippets without the burden of editing and copy pasting the dialogue. Instead, the creation process can be automated.
However, creating snippets isn't a quick task. It takes time and manually uploading them one by one with different media formats for each social platform.
With automation, the frustration is skipped. Instead, autogenerate video snippets from podcasts which are uploaded and distributed instantly onto social media. This means, you will never lost a promotional opportunity.
We have created a few tutorials to help you out:
👉 Create a Fully Automated Podcast Clip Studio with Airtable and Zapier
👉 How to autogenerate podcast clips via API
6. Include subtitles in videos for social media
Did you know that 85% of Facebook videos are watched without sound? Consumers have created a shift to how they enjoy video, with subtitles becoming a necessity in order to create an impact and stop the viewer's scrolling.
Not only that, but subtitles make audio video accessible to the population with hearing disabilities.
So, how do we add subtitles to each video clip in a fast and efficient manner? Your answer lies in automation.
We have created a few tutorials to help you out:
👉 How to Create Videos with Auto Subtitles in One API Request
👉 How to add subtitles to videos via API
7. Autogenerate animated GIFs
Who doesn't enjoy a good old fashioned GIF? They're fun, dynamic, entertaining, and most importantly they are memorable.
There is many different types of GIFs, some are used for comedic responses, whilst others are used to highlight different types of offers to catch a leads attention.
Whatever your goal may be, GIFs are a dynamic approach to promote your product that can easily be achieved with a few triggers and a workflow.
Autogenerate GIFs for promotional activities, campaigns, or for fun.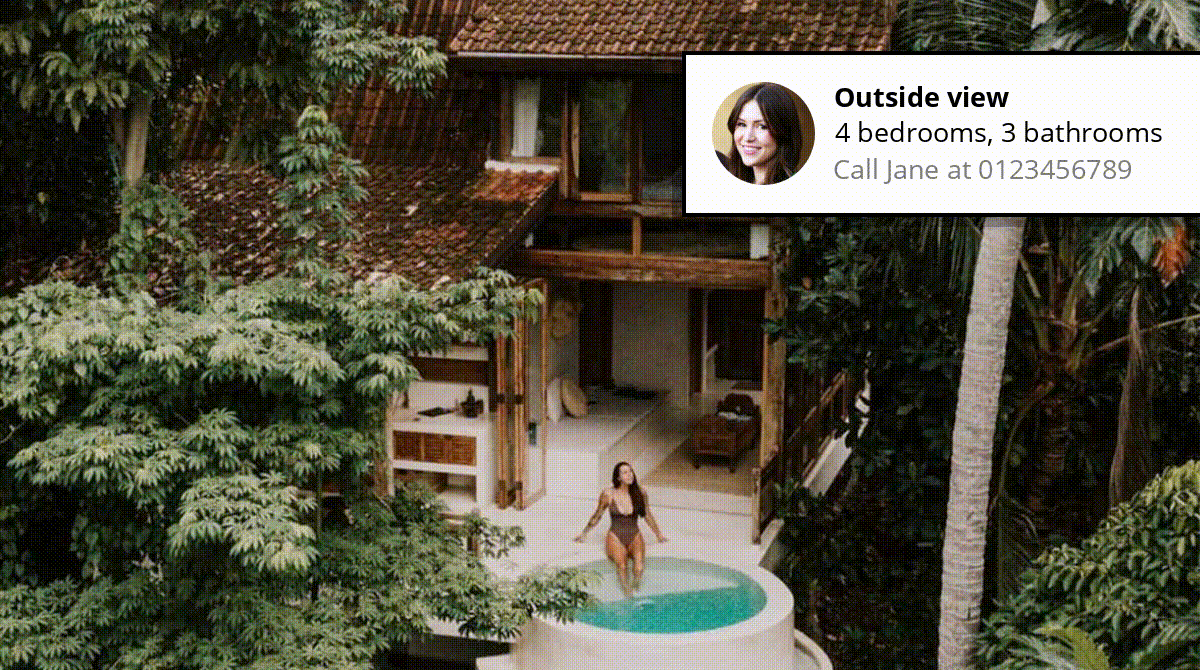 Here is a tutorial to help you start your own automation process:
👉 How to Auto Generate Animated Gifs with Bannerbear and Zapier
In conclusion
Whatever your goals may be, automation ultimately saves time and skips rudimentary tasks. Moreover, leaving tasks to automation ensures all the potential content material gets distributed and launched without having to depend on human resources and task allocation.
However, a word of caution.
Although automation is a powerful for social media presence, it should be used only as a complement to the original content for social media. The beauty about social media is the amount of personalization and brand tone that a company can present on social media.
Therefore, automation is a wonderful resource to overtake routine uploads, but should always be included and adjusted to the overall marketing strategy and business goals.