5 Zapier Alternatives 2023 (Free & Paid)
Zapier might be the leading workflow automation platform, but it isn't always the most suitable. Consider these five alternatives.
Workflow automation builders exist to help businesses complete tasks more effectively and efficiently, even without technical knowledge. The concept of using these platforms to automate time-consuming tasks isn't new. But you can build a workflow in more than one way, using more than one platform. How do you choose what's most suitable for you?
Zapier is known as the go-to workflow automation platform. As one of the earliest integration softwares with the greatest number of compatible apps, it's what people think of when trying to send data across applications and without code.
But over the years, many alternatives have emerged to fulfill the diverse needs of the market. In this article, we'll be diving into a few of the most notable Zapier alternatives so you can decide which one is the right fit for you.
❗ Note : All of the information in this article is current as of January 16, 2023.
Zapier: The Go-to Workflow Automation Platform
The SaaS (Software as a Service) industry is valued at more than $170 billion, and more and more solutions are being put out to the public every day. But because each one only serves a certain purpose, companies often have dozens of applications in their tech stack.
iPaaS (Integration Platform as a Service) tools like Zapier makes sending data across applications easier by communicating with them via API (Application Programming Interface). This allows you to complete entire tasks (onboarding new clients, sending automated emails, generating digital assets, etc.) that span several tools without having to manually carry them out.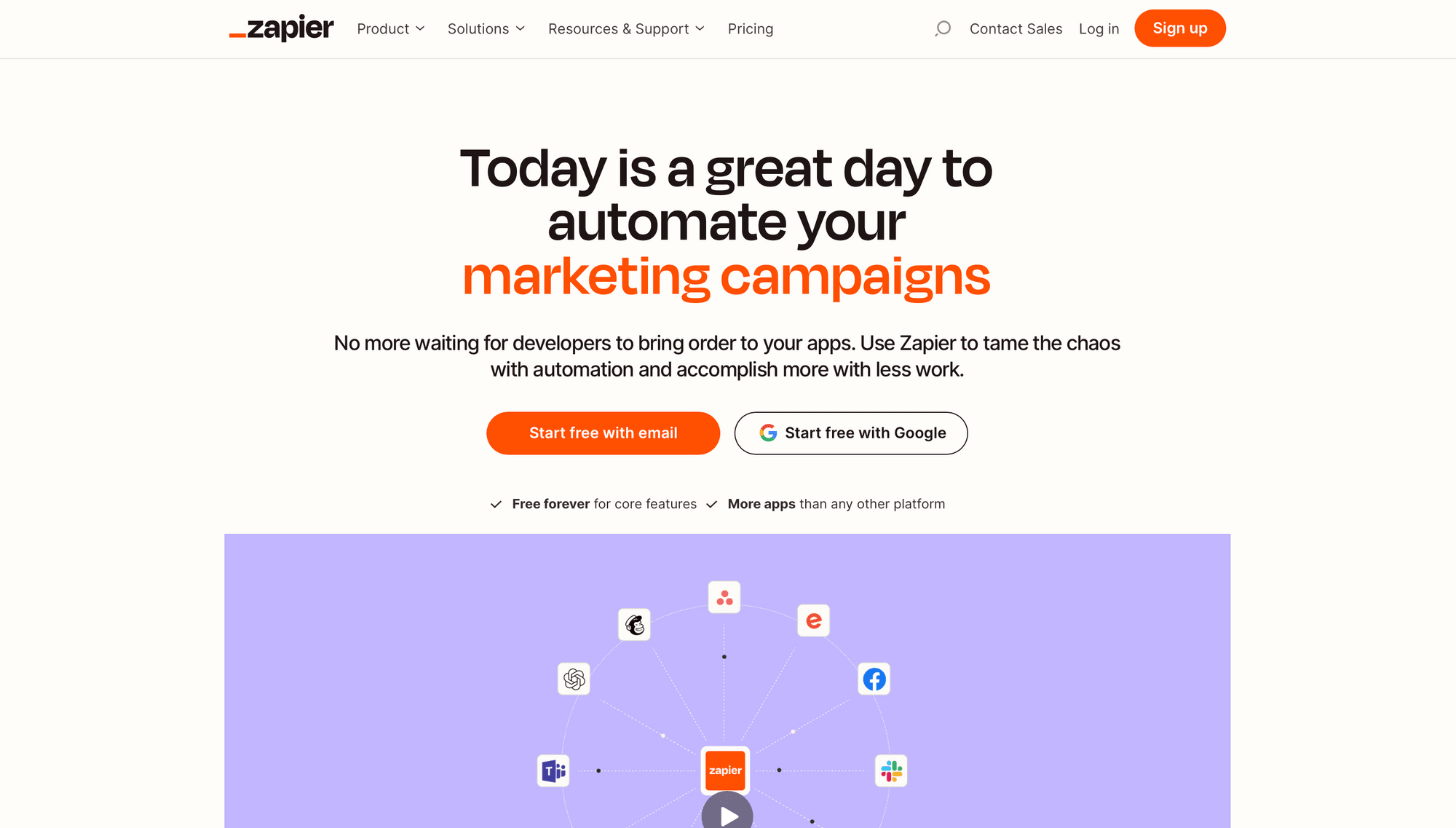 Zapier's pricing ranges from free for basic individual use to $799 per month for 100,000 tasks a month, making it a scalable option for businesses of all sizes.
There are times when businesses feel Zapier might not be the best fit for them, whether it be because of the pricing model or integrated app options. Let's take a look at some alternatives that might better answer their needs.
5 Zapier Alternatives in 2023
Make: A Visually Intuitive Platform
Make (formerly Integromat) is one of Zapier's strongest contenders. It has a distinctive visual builder that uses circular nodes to build scenarios ranging from simple to complex.
Over 1,000 apps are pre-built into Make, and more advanced users can connect to more public APIs with the HTTP app. Features such as flow control, data manipulation, filtering, and error handling give users more control over their scenarios and maximize the chances of successful deployment.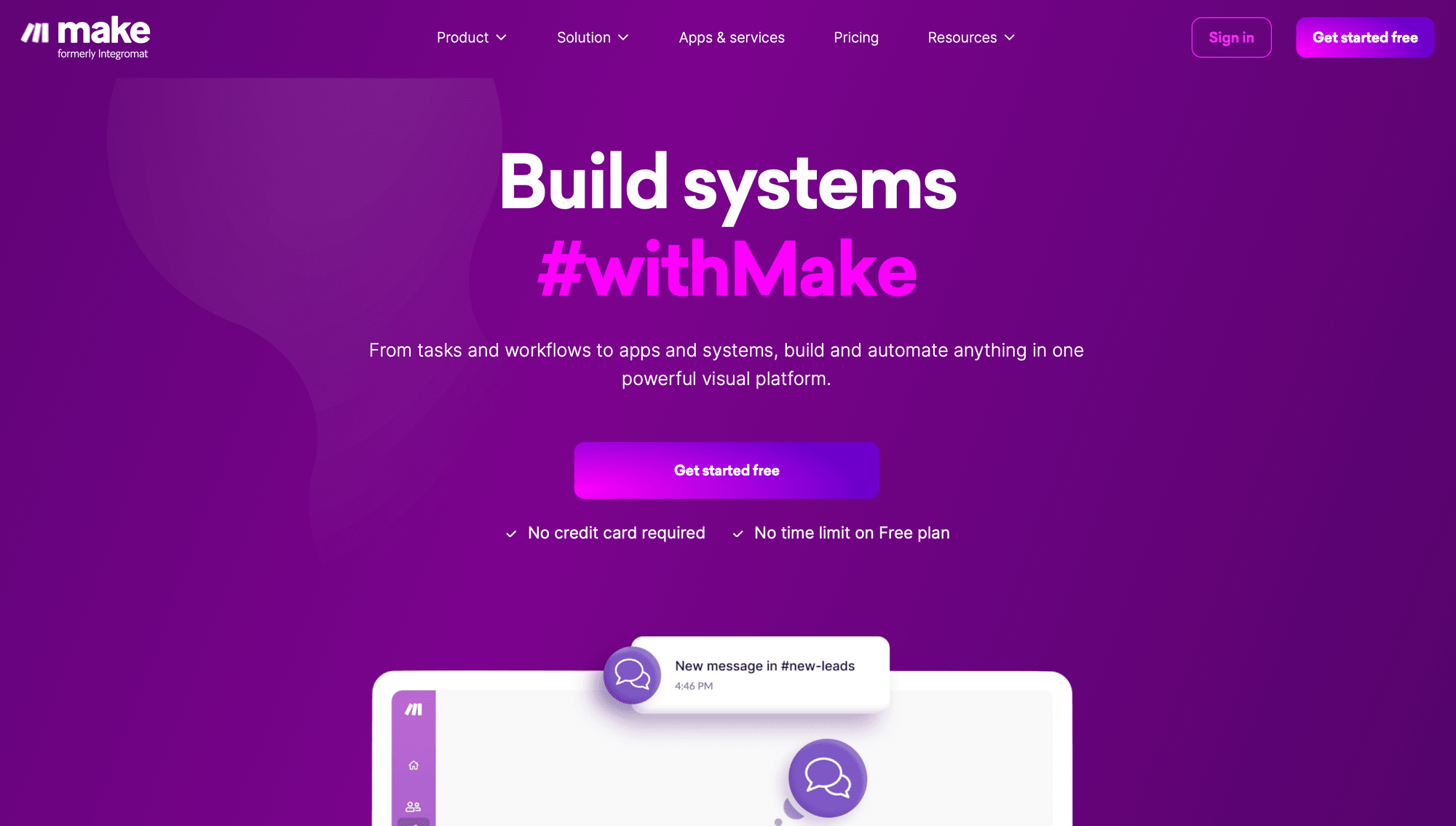 Make's pricing starts from a free plan for 1,000 ops a month to $29 per month for 10,000 ops a month. Enterprise plans are also available.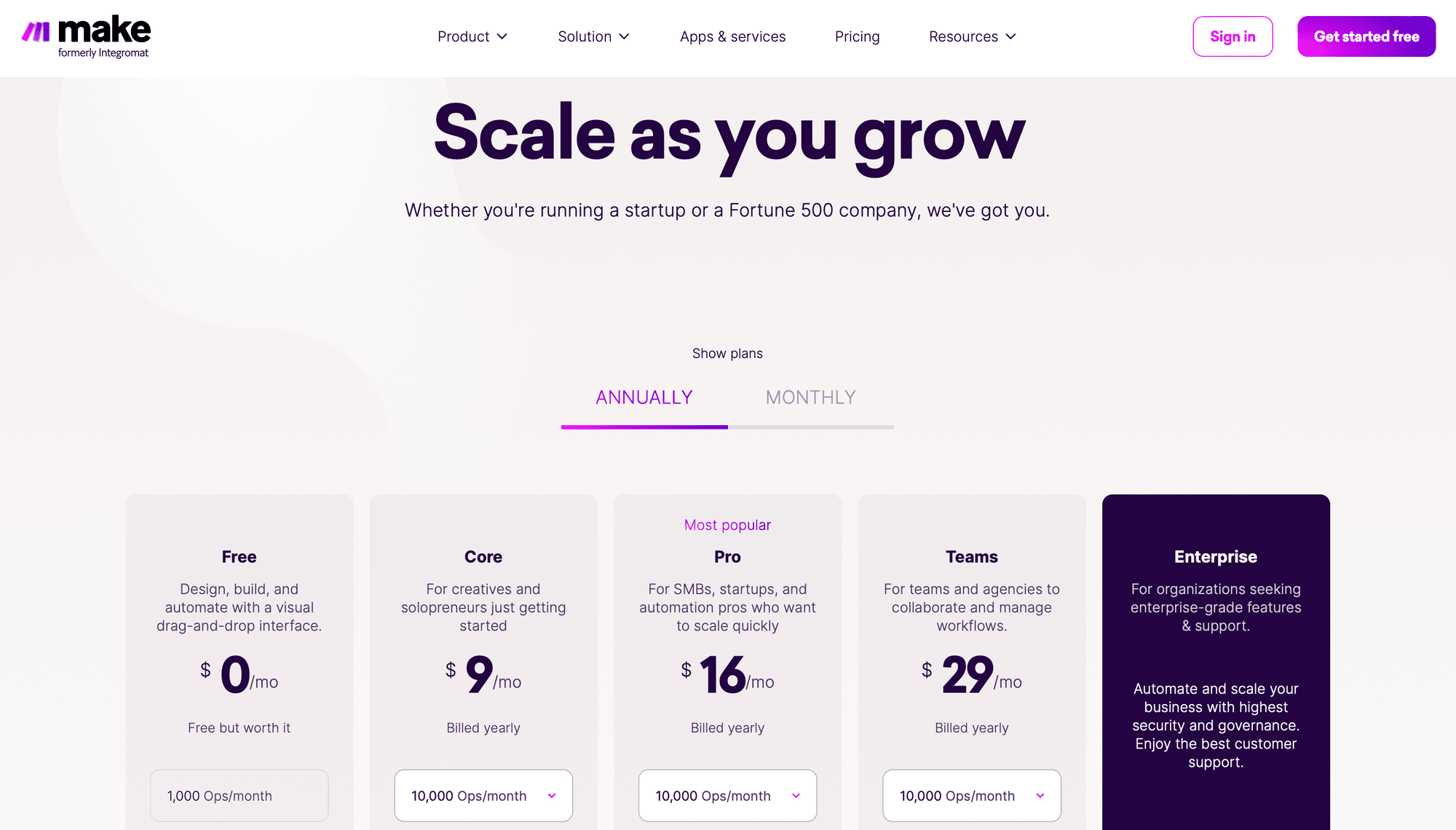 🔑 Key Features:
Over 1,000 app integrations
Drag-and-drop interface
Data manipulation features to allow for more control
😍 What We Liked:
More intuitive workflow visualizer for complex scenarios
HTTP/Webhooks support for connecting to more apps
Beginner-friendly documentation and starter templates
😐 What We Didn't Like:
Pricing for large-scale use is not transparent
Steeper learning curve to the visual interface
💭 Overall Thoughts:
Make is an excellent choice for businesses who need task automation software for friendlier prices. While it can be tricky to learn, it is intuitive enough for non-technical users. That said, fewer built-in apps means you should check to see whether everything you need is supported.
Workato: An Enterprise-First Platform
Workato caters more to enterprises and large corporations, as evidenced by its direct quote pricing strategy. Rather than focus on automating tasks, they pride themselves on automating full business processes that involve several applications, systems, and data sources.
Advanced features such as formula functions and data parsers give companies greater control over their data. Because everything is hosted on the cloud, Workato assures enterprise-grade security.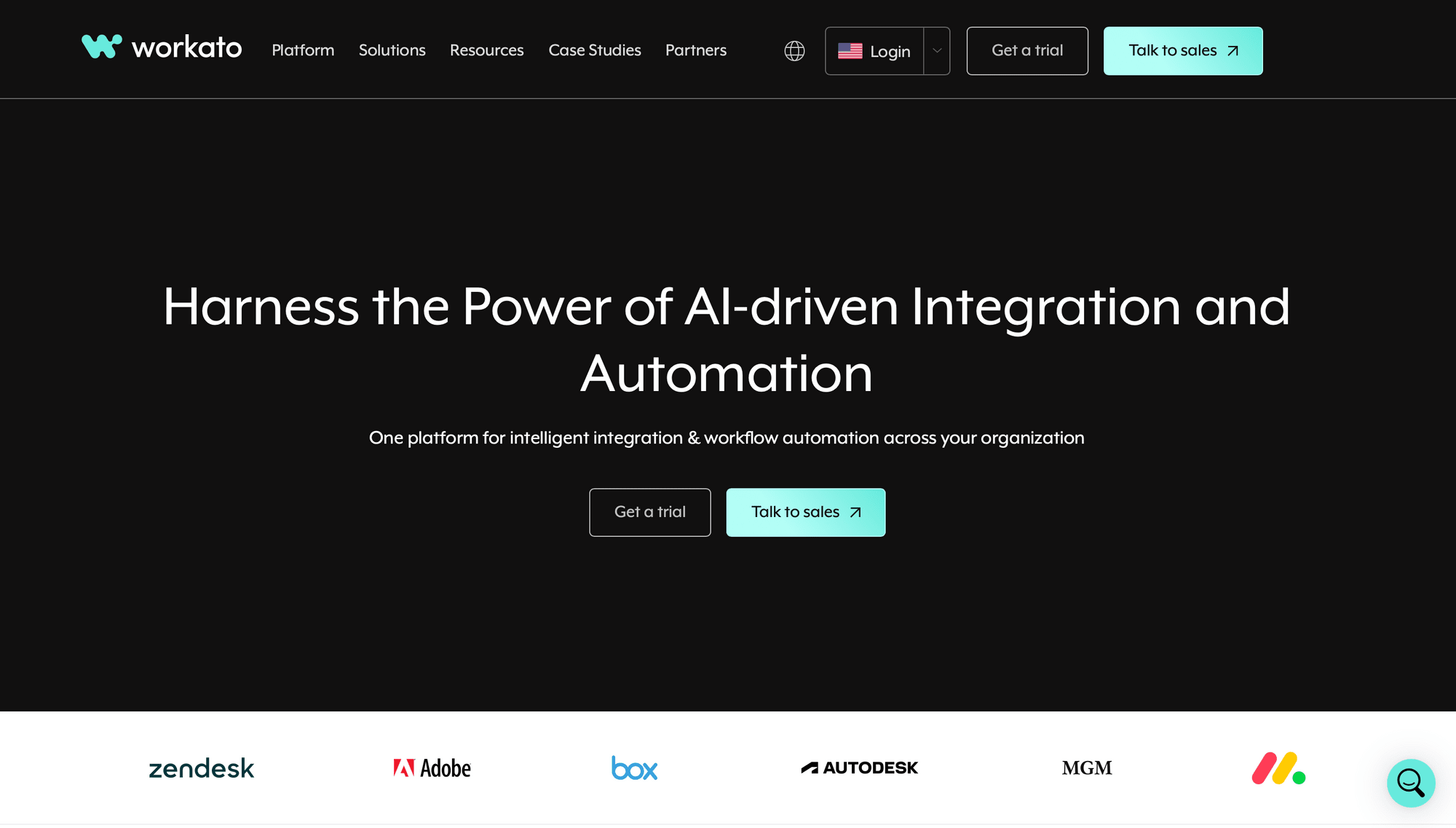 Workato's prices are known to be on the higher end, and companies must reach out for a direct quote.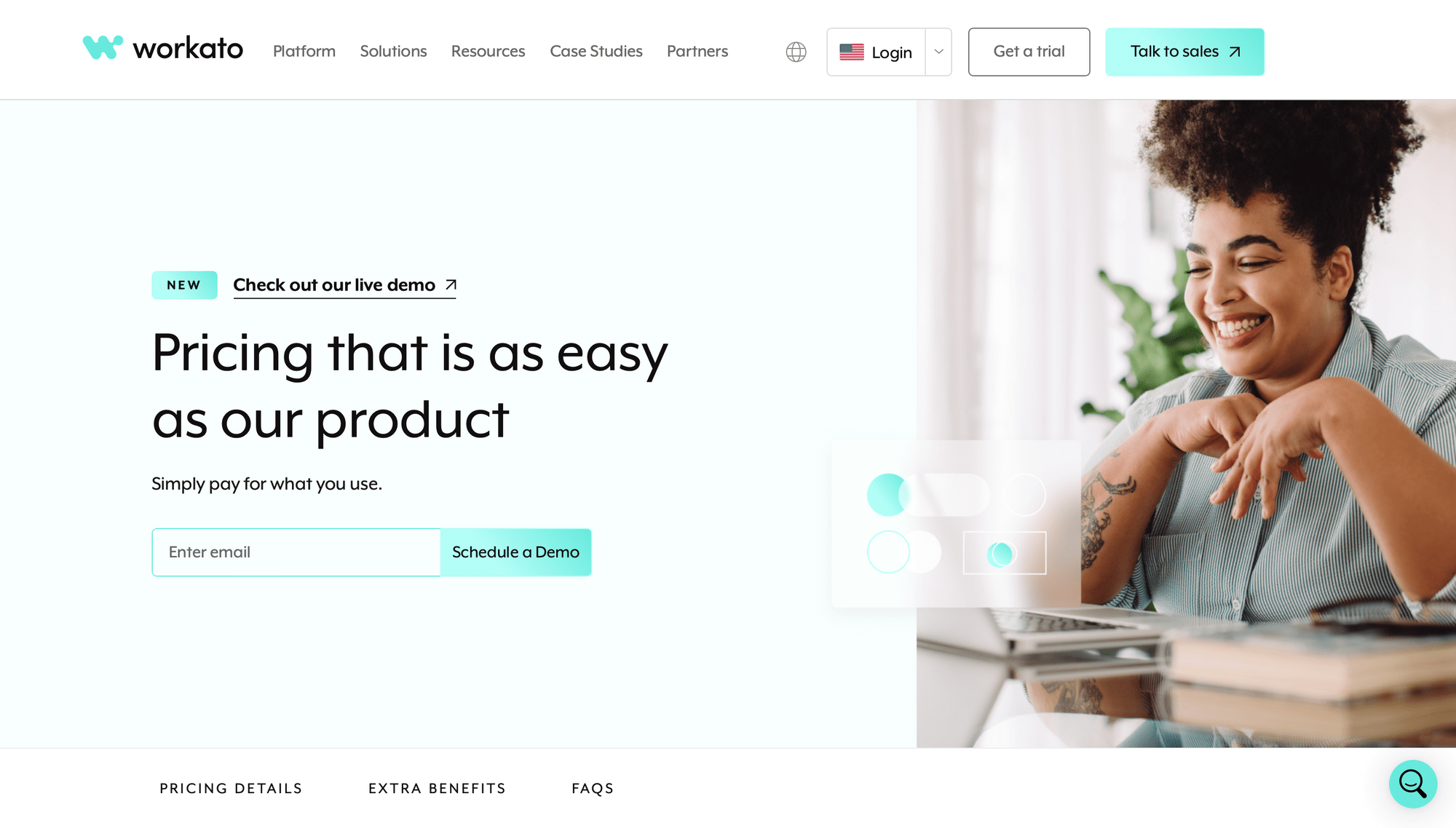 🔑 Key Features:
Over 1,000 app integrations
Custom-built business process automation solutions
Priority on security and governance
😍 What We Liked:
Active community constantly sharing new ready-to-use recipes
Solutions are organized by function, app, and use case
Easy-to-integrate Enterprise Chatbots
😐 What We Didn't Like:
Pricing is not transparent
No free trial
💭 Overall Thoughts:
Large enterprises with complex workflows might find themselves benefitting from Workato's custom solutions, but they have to be willing to pay the price. Small businesses and individuals will likely find that other platforms suit them better.
Tray.io: An Advanced Platform for Technical Users
Tray.io is another platform targeting enterprise businesses. With a universal connector that works with all RESTful APIs, users can access a wide variety of apps. However, there are only over 600 pre-built connectors, meaning Tray.io is not as plug-and-play as larger providers.
Aside from being an iPaaS, Tray.io also can be considered a business process management solution and ETL (Extract, Transform, and Load) tool. These advanced capabilities mean that the platform might not be suitable for non-technical users.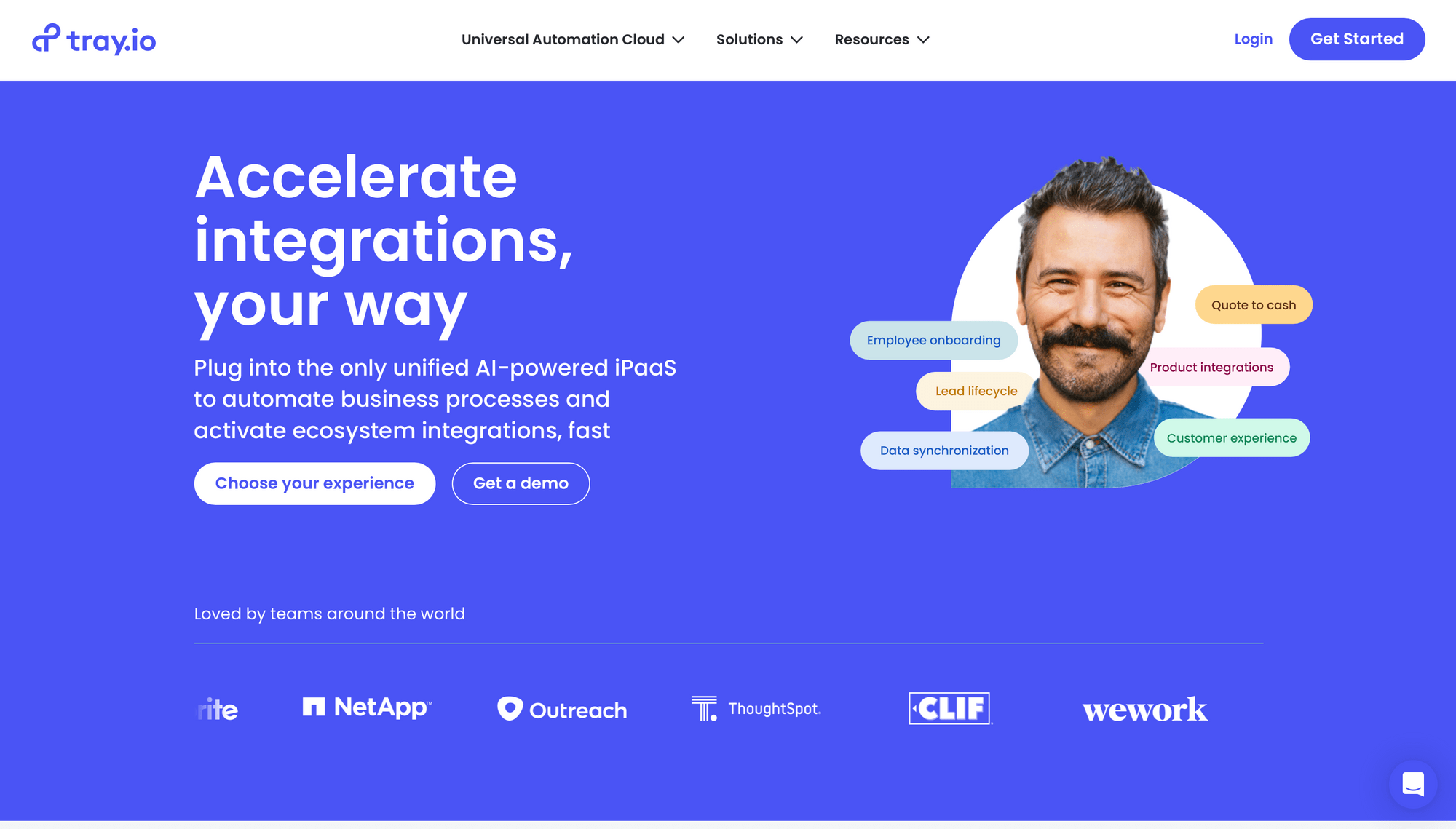 Advanced features come with a bigger price tag, and potential customers need to reach out for a custom quote. That said, pricing is by volume so companies can expect to pay just enough for their use.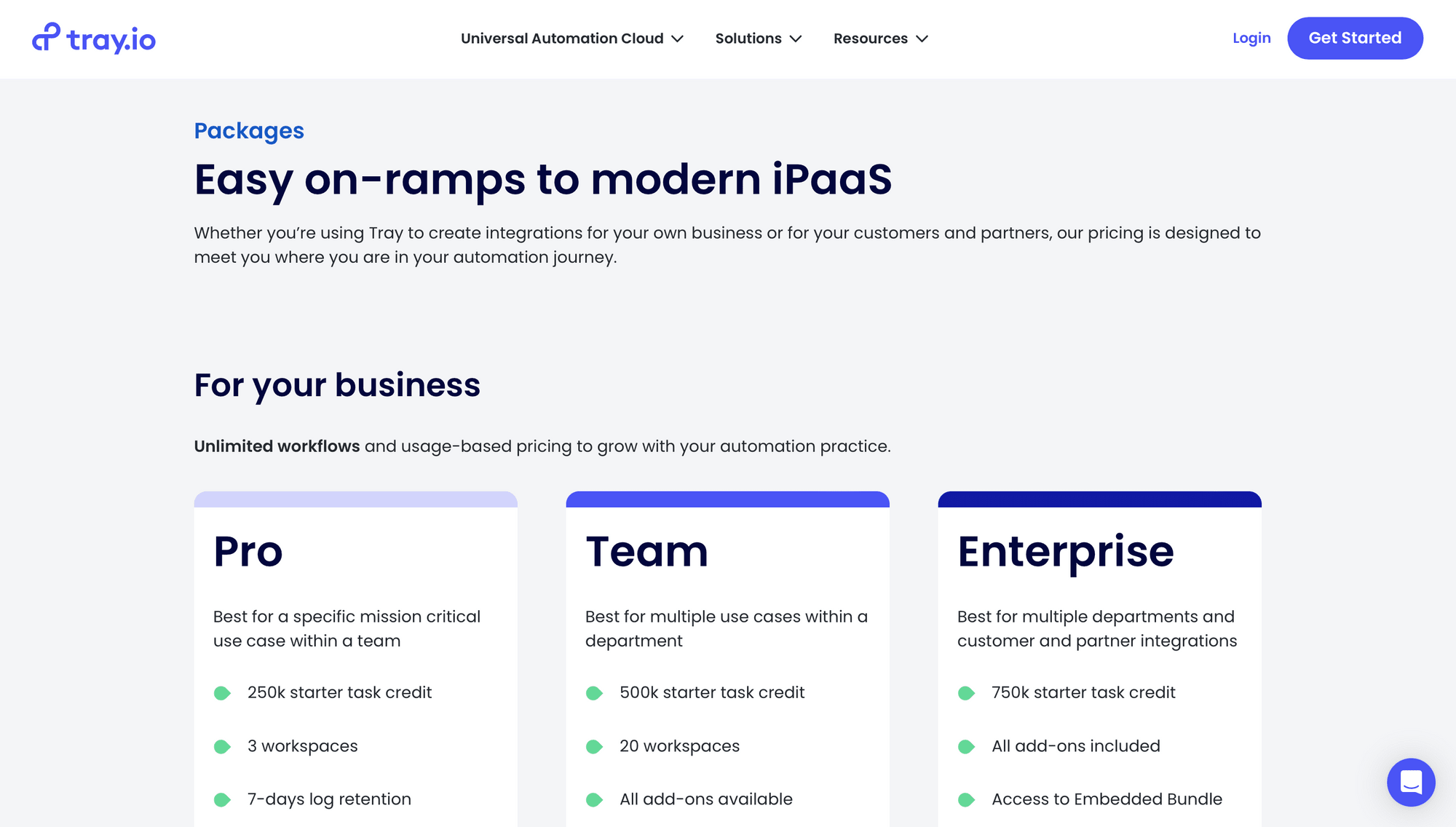 🔑 Key Features:
Over 600 app integrations
Drag-and-drop workflow builder
Solutions for complex processes across entire application stacks
😍 What We Liked:
Free trial available
Academy resources to ease the learning curve
Separate stand-up development, Q/A, staging, and production environments
😐 What We Didn't Like:
Pricing is not transparent
Limited native integrations
💭 Overall Thoughts:
Tray.io can build custom enterprise solutions and streamline entire processes—but for a significant price. They can be a great option for companies with complex needs, larger budgets, and a technical team. However, they might not be suitable for smaller businesses or those looking for plug-and-play solutions.
Quickwork: A Flexible Platform
Quickwork is an integration platform with an impressive number of app integrations, given its relatively small size. Features are extensive, and users can build anything from simple workflows with built-in apps to complex processes with public APIs. Workflow execution and data storage can either be hosted online or on-prem, depending on your needs.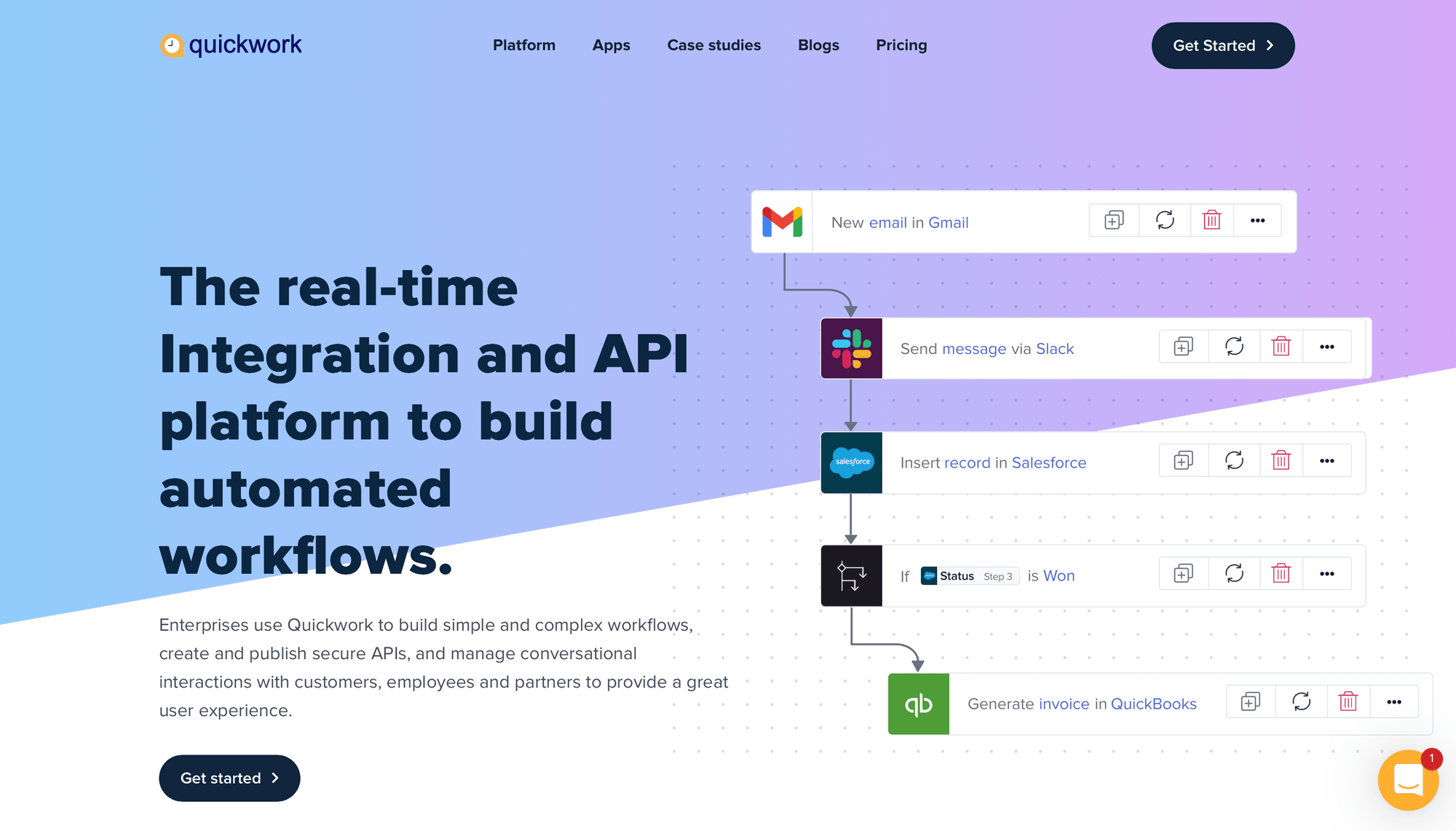 Quickwork's pricing is pay-as-you-go and comes with a 30-day free trial that offers access to 1,000+ apps. At the end of the trial period, businesses receive a quote based on their real usage of the software.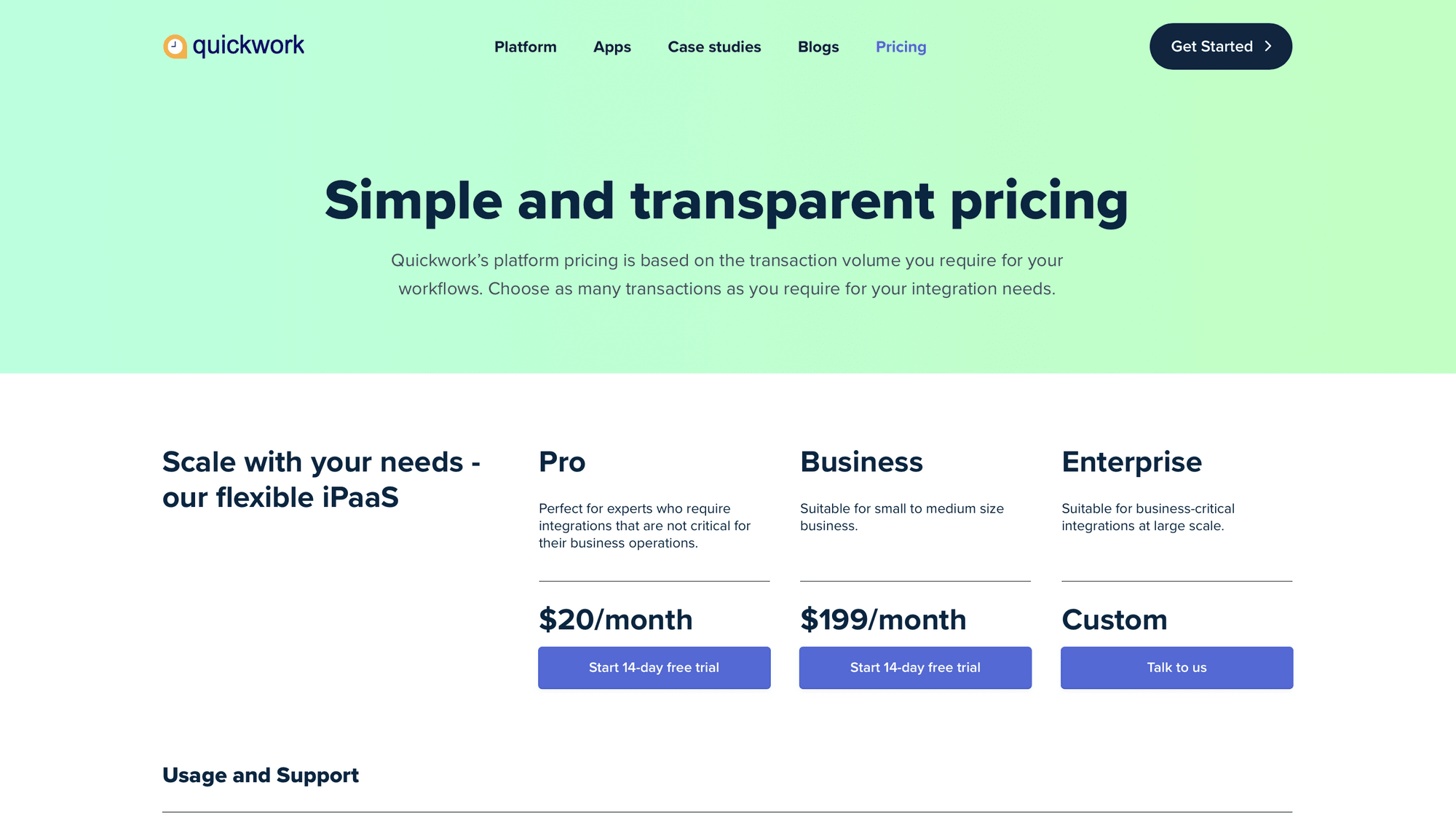 🔑 Key Features:
Over 1,000 app integrations
Drag-and-drop workflow builder
Enterprise-grade features
😍 What We Liked:
Supports real-time, polling, scheduled, and manual triggers
Comes with a library of pre-built functions
30-day free trial period
😐 What We Didn't Like:
Inactive user forum and relatively small community
Vague pricing plan
Limited programming language support for functions (Node.js only)
💭 Overall Thoughts:
Quickwork is a flexible platform that can answer the needs of businesses ranging from SMEs to larger corporations. However, they have a small team and community, meaning that it might be difficult to get quick feedback and support.
n8n: A Platform for the Tech-savvy
n8n is a growing automation platform with a beautiful visual platform that handles branching, merging, and iteration with ease. With features such as self-hosting and custom HTTP nodes, this is definitely something more suitable for tech-savvy users.
Advanced features are extensive, but because there are only 200 app integrations, non-technical people might struggle to get their workflows off the ground.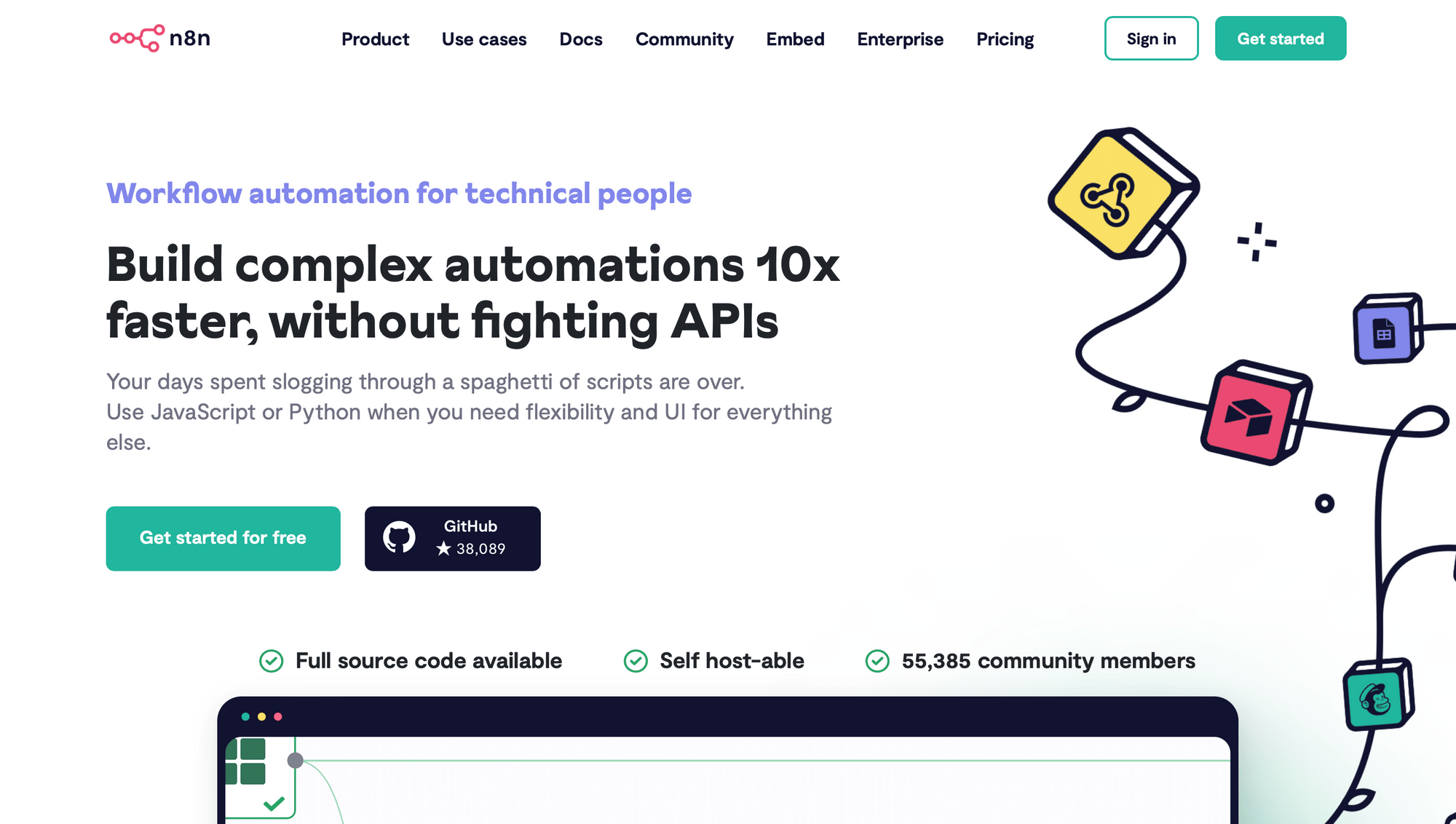 While n8n's pricing does not offer a free tier, they remain affordable. Monthly subscription fees begin at $20 for 20 active workflows and 5,000 workflow executions, going up to $120 for 200 active workflows and 60,000 workflow executions.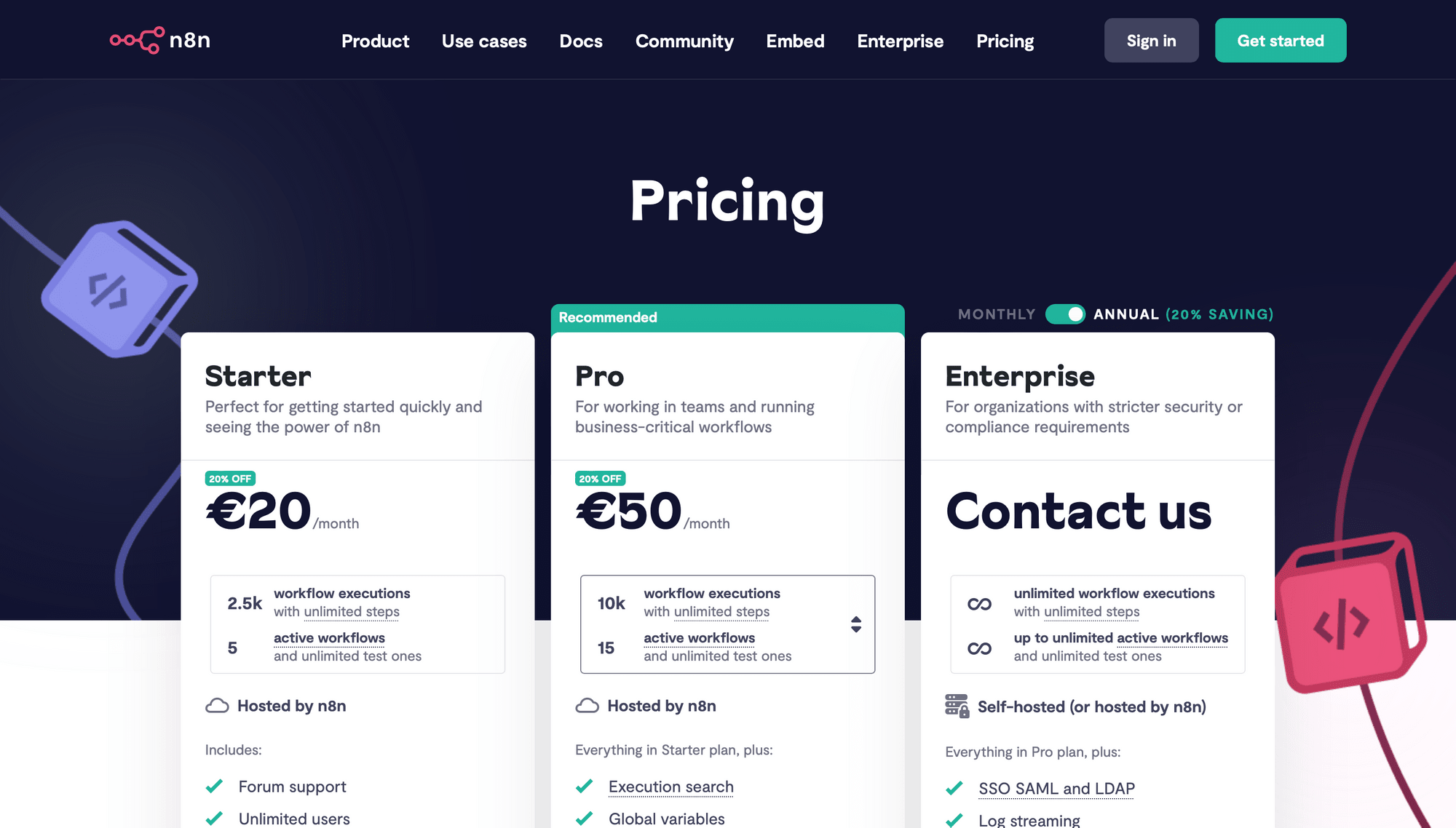 🔑 Key Features:
Over 200 app integrations
HTTP node for custom app integration
Classified as fair-code licensed under the Sustainable Use License
😍 What We Liked:
Free trial available
Exportable workflows
Sensitive data can be hosted on-prem
Engaged, growing community
😐 What We Didn't Like:
Relatively difficult to set up
Limited native integrations
💭 Overall Thoughts:
n8n's user base and community is quickly growing, so they are an excellent option for individuals and businesses who want an affordable custom solution but have the technical ability and patience to work through completely new use cases. If you are a non-technical user and speed to deployment is a priority, this might not be the platform for you!
✨ Bonus - IFTTT: Nocode, but on Mobile
IFTTT (If This, Then That) is a mobile-friendly nocode platform that connects apps, devices, and services. Unlike many of the other platforms above, it focuses on automating tasks on your mobile device, from your mobile device. The app is available for both Android OS and iOS.
Task flows are called "Applets," and they can include conditional logic to process incoming data and refine output. The platform is extremely user-intuitive, and while there aren't nearly as many built-in app integrations compared to enterprise platforms like Zapier, IFTTT offers solutions for niche use cases.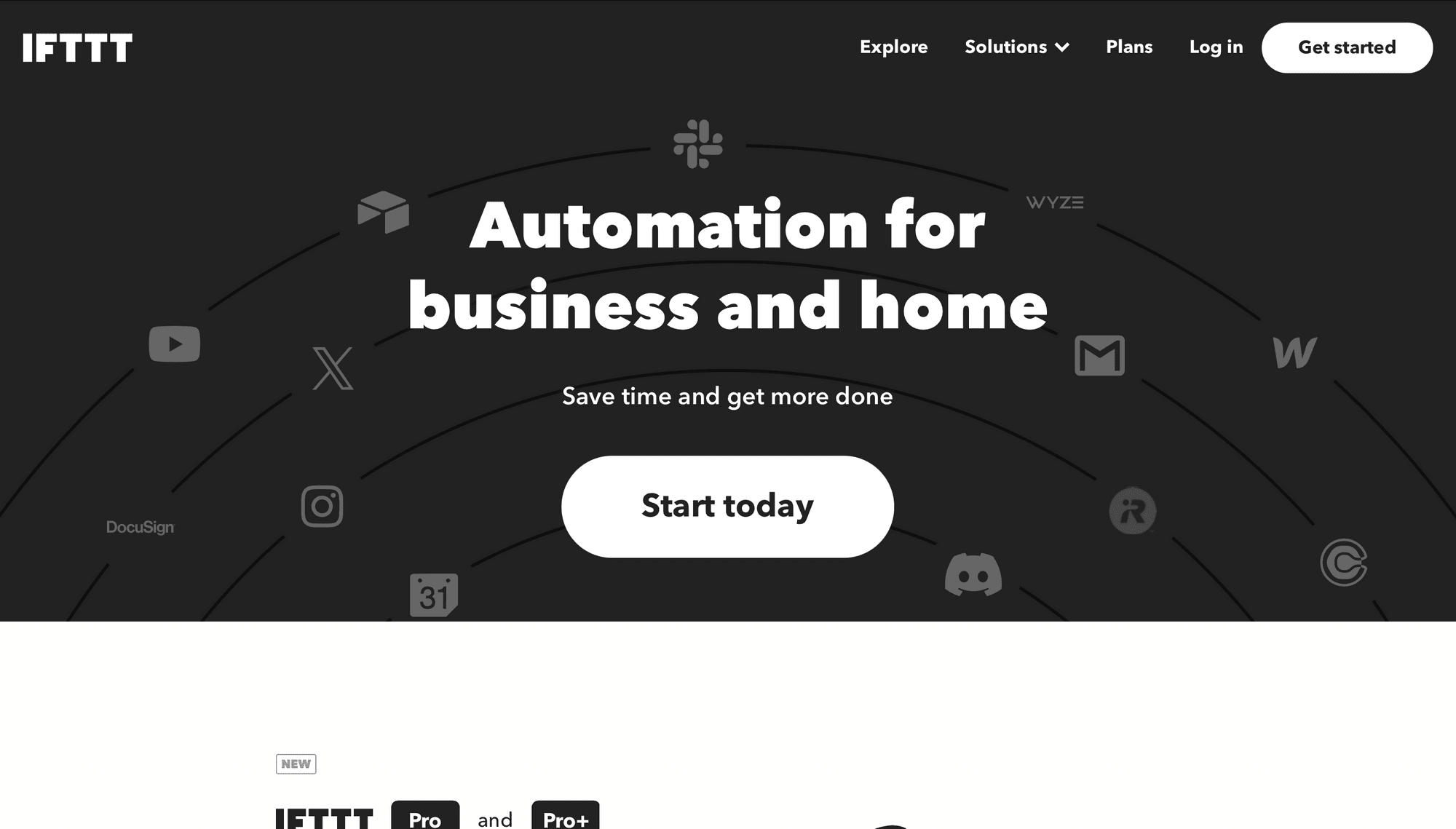 A completely free tier is available for individuals who need up to 5 Applets and unlimited runs. At $2.5 and $5 a month, paid tiers are still incredibly affordable.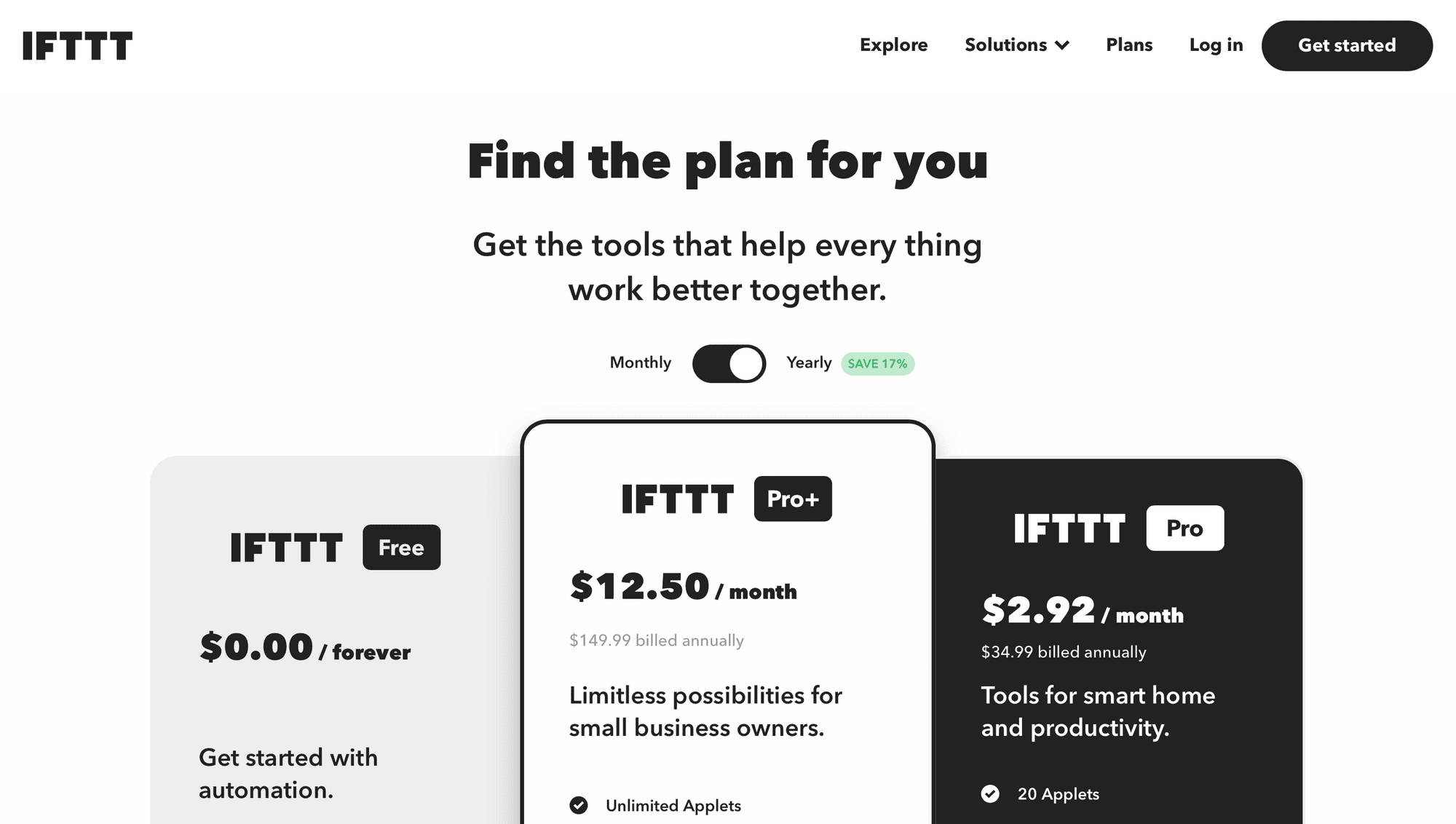 🔑 Key Features:
Over 700 app integrations
Intuitive, mobile-friendly interface
Smart device integration capabilities
😍 What We Liked:
Simple interface with little-to-no learning curve
Free plan for individual use
Extremely affordable
😐 What We Didn't Like:
Limited app integrations
No web app
💭 Overall Thoughts:
IFTTT is a fascinating platform that stands out in its ability to integrate with smart devices and build task flows directly from a mobile app. However, its business capabilities are limited, making it more geared towards individuals and tech enthusiasts.
Selecting the Best Nocode Automation Platform for You
In 2023, we aren't short of options when it comes to integration and automation solutions. Whether you're looking for an enterprise-grade platform with thousands of integrations or an extremely specialized solution with just a handful of apps, there is something out there for you.
Many of the platforms above have free trials or free plans, so don't be afraid to experiment. The right software for your needs is out there—you just have to find it.