5 Knowledge Base App Alternatives to Notion in 2023 (Free & Paid)
Notion is one of the leading knowledge-sharing softwares available, but some teams find it limiting for their needs. Consider these five alternatives.
As remote work becomes the new normal, app after app has entered the market to offer solutions to database management, project management, and digital collaboration. One of the better known knowledge-sharing softwares is Notion.
There aren't too many people that don't recognize the black-and-white user interface punctuated by small bursts of color. As one of the leading note-taking and knowledge-sharing apps on the market today, Notion is known to be a solution for design, engineering, marketing, and product teams. But its versatility also makes it a fantastic option for students, solopreneurs, and plenty of other user types.
With robust integration features and an intuitive drag-and-drop interface, Notion is easy to adopt into any type of workflow. However, some teams find that it doesn't quite fit their needs.
Many Notion alternatives have emerged throughout the years, both free and paid. In this article, we'll discuss a few on the list and consider when they might be a better fit for you.
❗ Note: All of the information in this article is current as of the publishing date.
Notion: A Minimal, Yet Feature-packed Knowledge Base Software
Notion describes itself as an all-in-one workspace that allows users to create what they need from LEGO-style building blocks. Teams that use it typically have the goal to centralize their workflows and establish a single source of truth.
Features like a variety of views (tables, lists, docs, Kanban board, gallery, and timelines) as well as a drag-and-drop interface make it possible for users to craft custom workflows. Wikis, product galleries, and even project roadmaps can live side-by-side—no need to jump from app to app.
200+ built-in app integrations help you supercharge your workflows by connecting to apps like Jira, Google Drive, and Slack. Notion also has an enterprise API that allows developers to build custom workflows using the software's capabilities.
Another thing worth noting is that Notion has an engaged community that actively contributes templates, tips, and tricks. This has created a micro-culture around Notion and increases its value over time.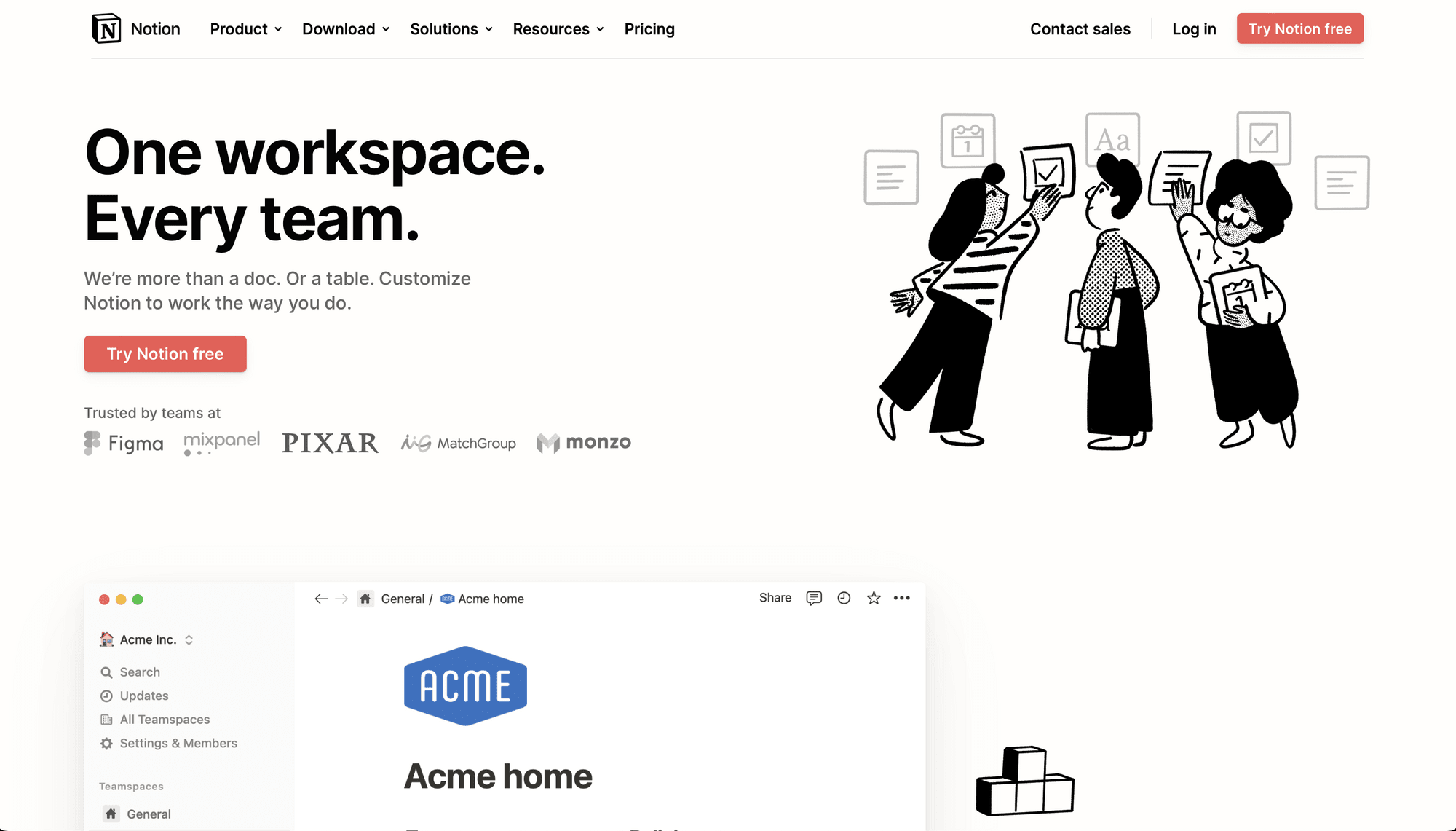 Notion's pricing starts free for individual use. Teams can try out a limited number of blocks at no cost, then pay a $8 monthly fee per user if they decide to commit. Businesses in need of private teamspaces, bulk exports, and advanced analytics pay $15 monthly per user, and those in need of even more advanced controls can request an enterprise quote.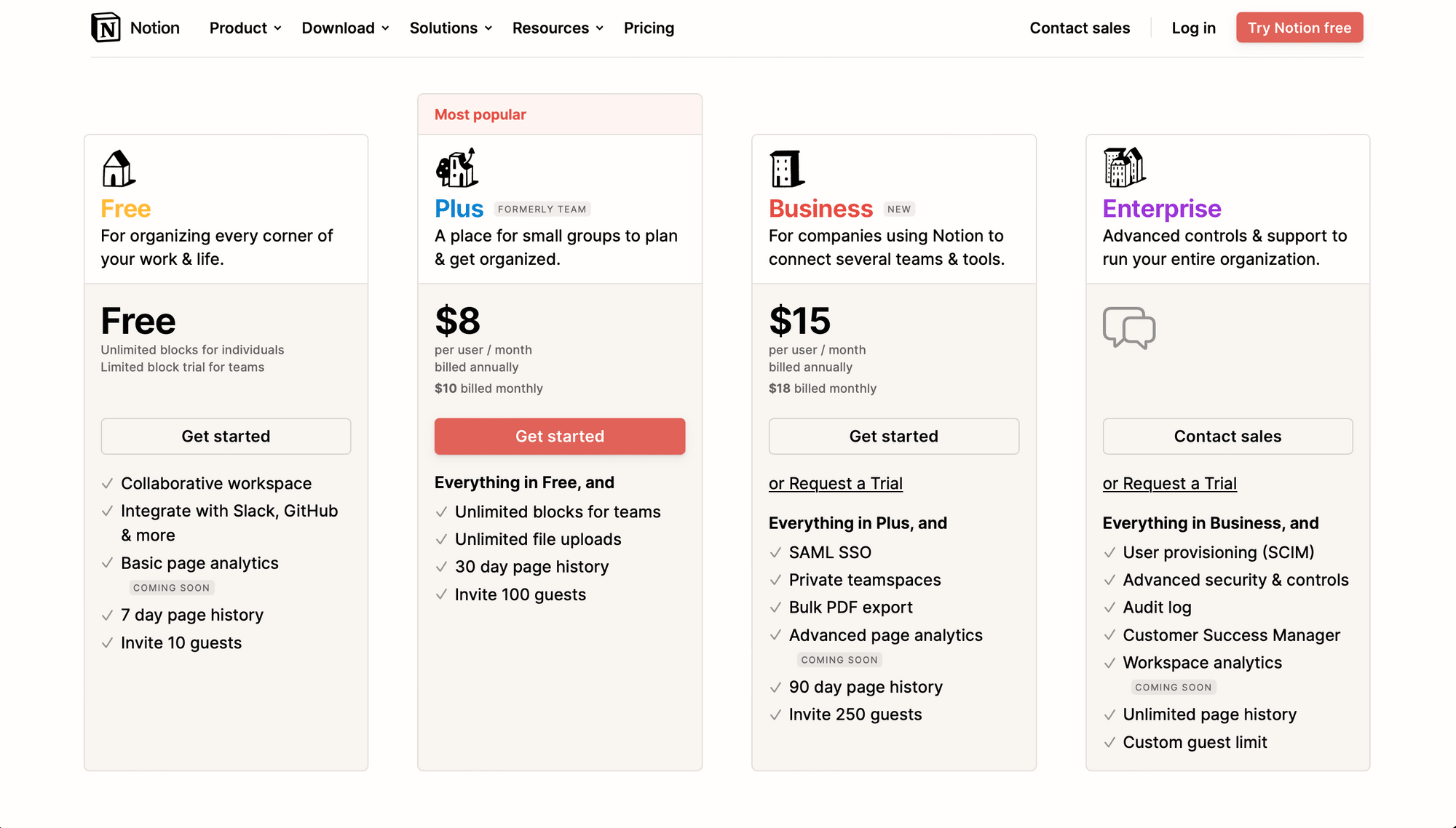 Good knowledge-sharing software contextualizes your workflow, allowing you to connect data to notes to supplementary material. Notion gives you a variety of ways to do this, but it isn't the only app to do so. Teams and individuals looking for different collaborative features, powerful data manipulation features, or more robust security should consider alternatives that better suit their needs.
5 Knowledge Base Notion Alternatives in 2023
Coda: A Solution for Data-heavy Use Cases
Workplace dynamics are evolving, and Coda was built to be a solution that brings words, data, and teams together. Rather than constantly scramble for siloed information, teams can stitch building blocks together to produce docs as powerful as apps.
Users can visualize data in a number of ways, including timelines, calendars, Kanban boards, and lists. They can also take advantage of Coda's integrations—called Packs—to receive data from third-party sites and streamline workflows even further.
One major advantage of Coda is its extensive data manipulation capabilities. Teams can supercharge datasets with advanced formulas and workflow automation, making it fantastic for use cases that require more power.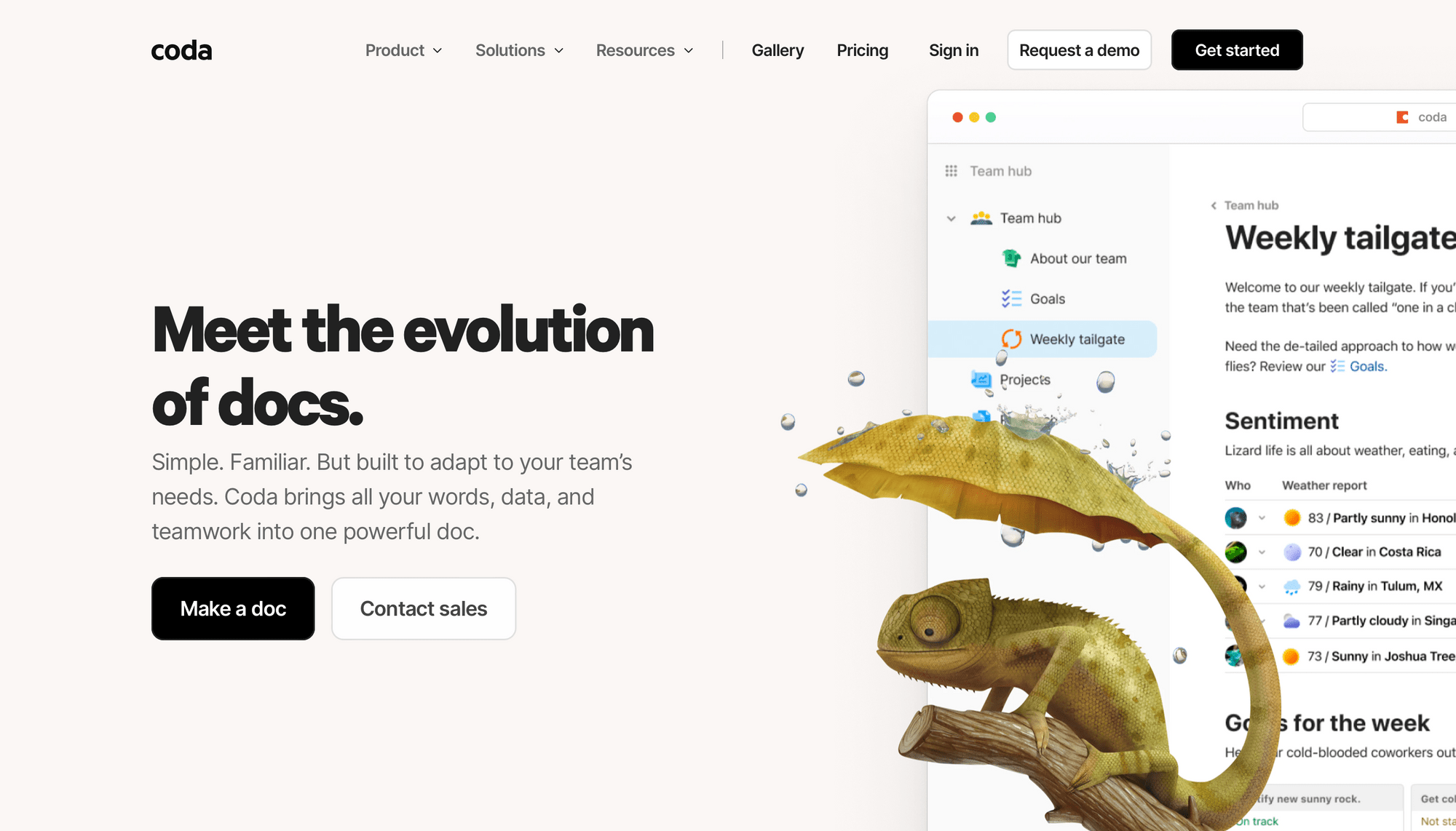 Coda's pricing is unique in that they only charge for "Doc Makers," allowing an unlimited number of guests. Users can test out the free plan with a limited amount of blocks. If they need more blocks or automation features, they can consider Pro or Team for $10 or $30 monthly per Doc Maker, respectively. Coda also offers custom enterprise quotes for customers needing more control, security, and support.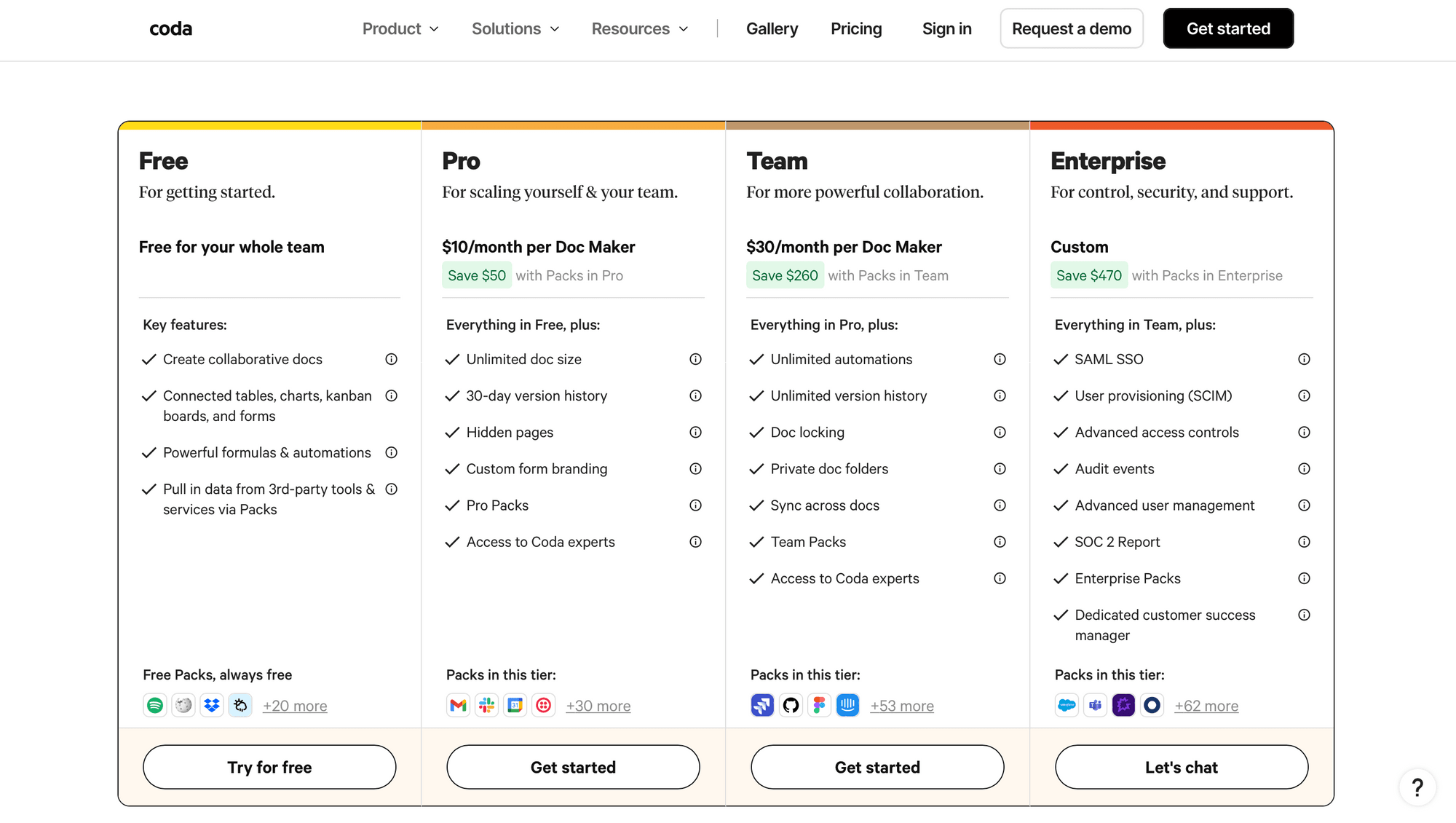 🔑 Key Features:
Extensive feature set including variety of views, data manipulation, and integrations
Interactive data visualization features
Drag-and-drop user interface
😍 What We Liked:
Advanced formulas for data manipulation
Plenty of third-party integrations
Scalable pricing model
😐 What We Didn't Like:
Steep learning curve
Limited starter templates
💭 Overall Thoughts:
Coda seems to be more geared towards commercial users, and they have powerful features that make it a fantastic option to consider. The fact that guests and editors can view docs for free also makes pricing appealing to many. However, the software comes with a learning curve and doesn't link different types of databases as seamlessly as Notion.
Slab: A Tool Created to Build Internal Knowledge Bases
Designed primarily for internal knowledge sharing, Slab caters to business users. It doesn't have as many features as Notion, but it does have some unique controls that make it extremely effective for what it is designed for. The Unified Search feature, for example, helps users locate information in Slab content and integrated tools.
The simple, visually appealing user interface makes docs look beautiful by default. Topics and sub-topics are organized in an intuitive way, and this makes ramp-up quick and easy.
Slab seems to be the only app on this list with a focus on engineering teams. Aside from GitHub and JIRA integrations, Slab shares resources on code review, postmortems, and RFCs to assist technical teams in staying ahead of the curve.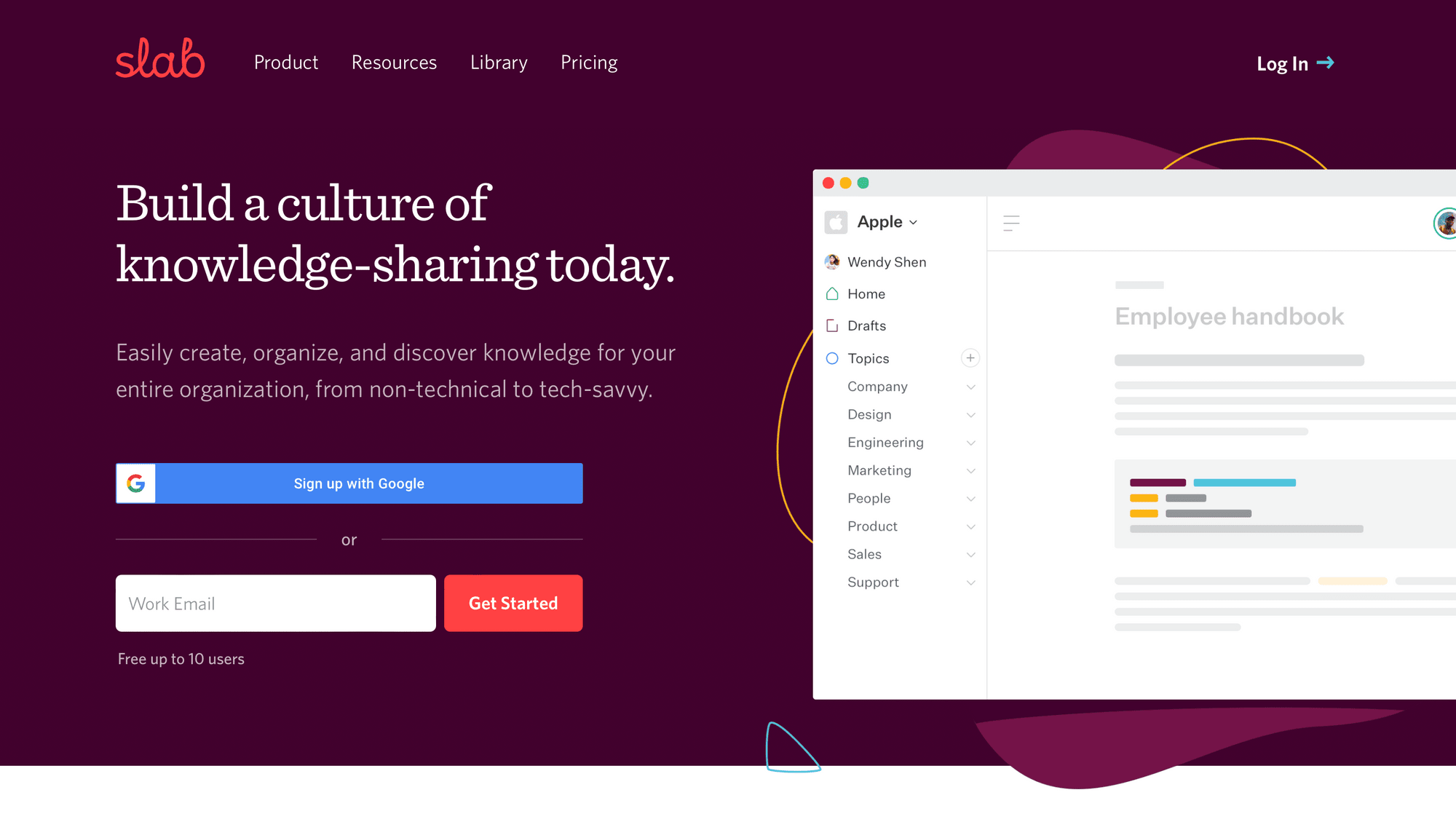 Pricing starts free for individuals, and there are paid Startup and Business tiers at $6.67 and $12.50 respectively that offer more storage and tighter security. Customers at Business and Enterprise quote levels also have access to premium integrations and Slab's API.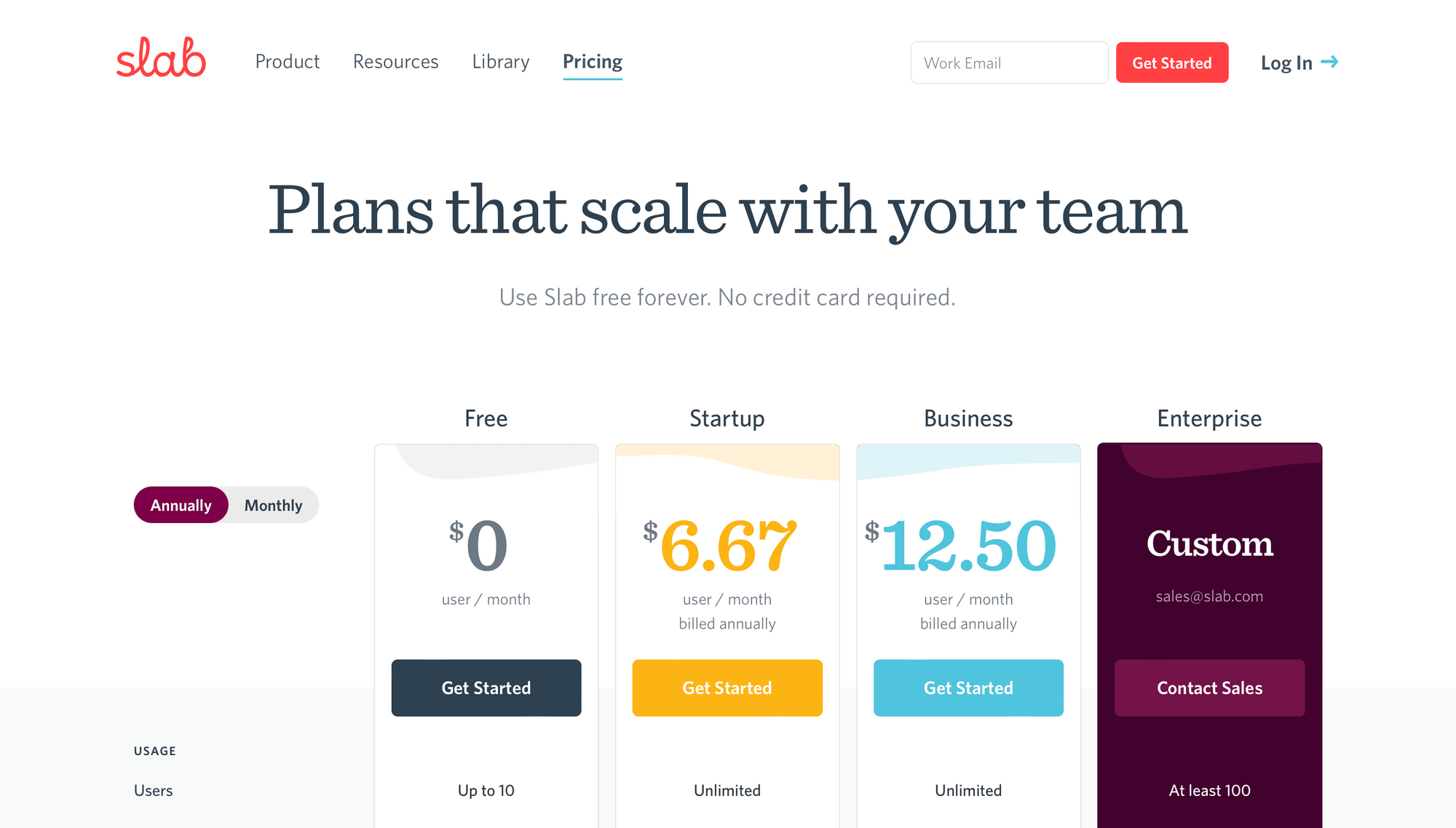 🔑 Key Features:
50+ third-party integrations
Unified Search feature that browses Slab content and integrated tools
Content verification feature to ensure trustworthy docs
😍 What We Liked:
Built to locate information with ease
Intuitive and beautiful user interface
😐 What We Didn't Like:
Fairly limited built-in integrations
Public API only available to business and enterprise users
💭 Overall Thoughts:
Slab seems to be most suited to small- to medium-sized teams. It focuses on building effective internal knowledge bases, and while features are not extensive, it does what it does well. Because integrations and API access are somewhat limited, Slab might be better for non-technical users and teams that don't need highly customized workflows.
Obsidian: An App Geared Towards Technical Users
Obsidian is, without a doubt, a software for technical users. While it is fairly intuitive to use, Obsidian is built to be customized to your use case. You wouldn't be getting the most out of the product without taking full advantage of plugins, themes, and custom CSS.
Most knowledge base software organizes docs by hierarchy. Obsidian, however, visualizes connections using graphs. This can be invaluable for people in research, academic, or tech fields where you benefit from a connected network of ideas.
As the only non-cloud-based software on this list, Obsidian puts privacy first. Data is stored locally, although users can pay an add-on fee for sync features (with end-to-end encryption). It also uses Markdown to future-proof text data. This ensures you can always directly view and make changes to source material using Markdown-compatible editors or scripts.
Pricing starts 100% free for personal use—and for most people, that's more than enough. Those who would like to support development and access exclusive communities can choose to pay a $25 one-time fee or $50 annually for commercial use. Obsidian also offers Sync and Publish features as monthly add-ons.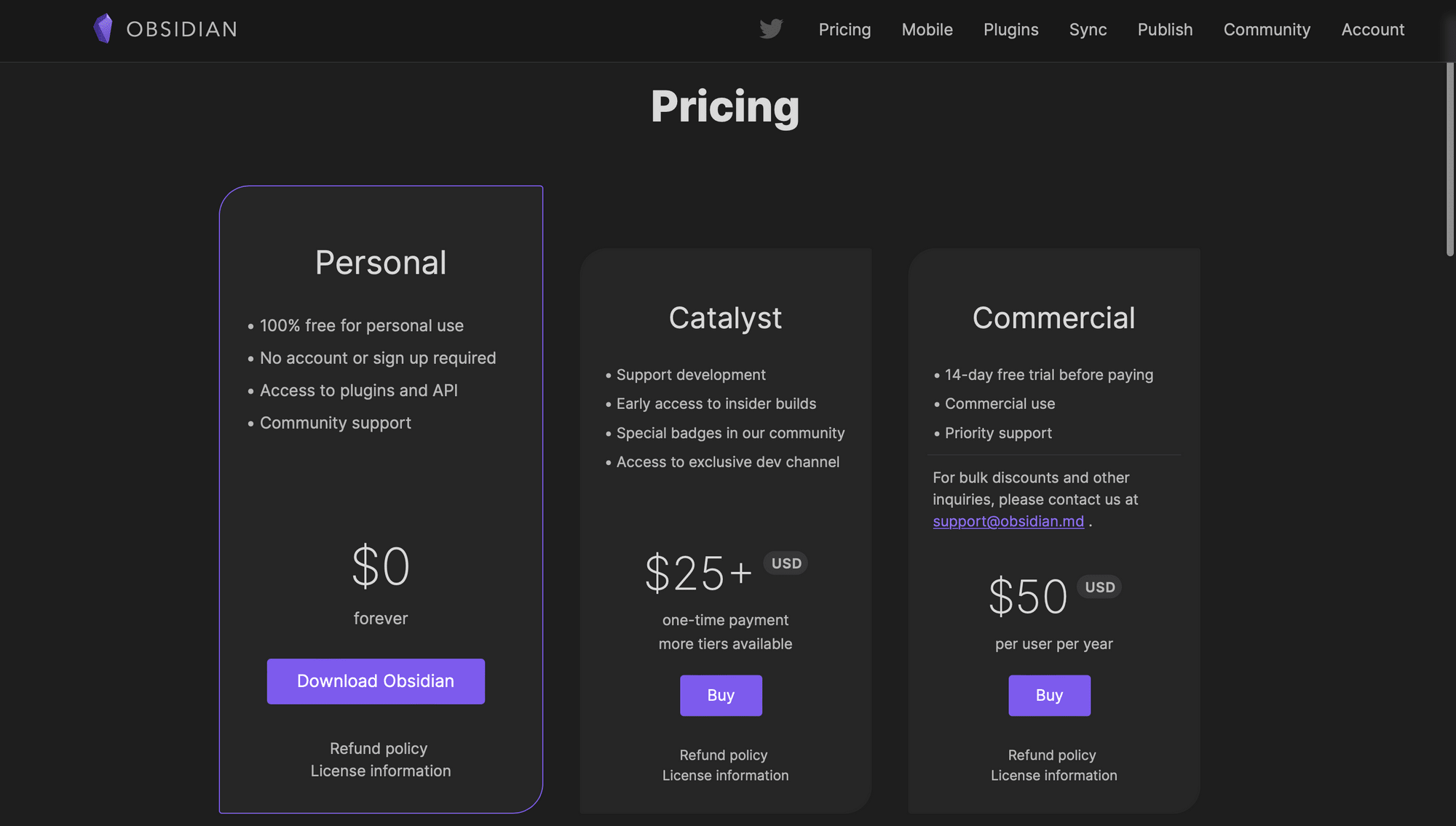 🔑 Key Features:
800+ third-party integrations
Graph view to visualize connections
Supports core & community plugins, themes, and custom CSS
😍 What We Liked:
Built to be customized
Active and engaged community
Local storage option for better security
😐 What We Didn't Like:
Add-on fee is charged for data sync features
Collaboration is difficult, with vaults having to be exported or published to be shared
💭 Overall Thoughts:
Obsidian is a powerful app built for personal knowledge bases. Its security features, extensive customization options, and wide range of integrations make it appealing to technical users. However, it is not built for collaboration nor synchronous work. These limiting factors may make it unsuitable for business use.
Microsoft OneNote: A Classic Business Productivity App
Microsoft OneNote is a part of the larger productivity suite and helps you capture ideas in a variety of formats. With an interface that follows Microsoft product standards, OneNote is easy to pick up and integrate with other tools in the same ecosystem.
OneNote is a relatively simple tool that gives you the capability to compile and collaborate on docs, jot down ideas, attach multimedia, and collaborate with others. However, it's a lot more than a text tool. Users can draw, apply spell check and translation to text, perform calculations, and even use the speech-to-text tool to capture information in the most effective way possible. Content blocks can also be moved around the page in whatever way you'd like.
Content on OneNote is organized following a linear organization structure. While this isn't a problem for many simpler use cases, it does not allow for the same contextualization that Notion is known for.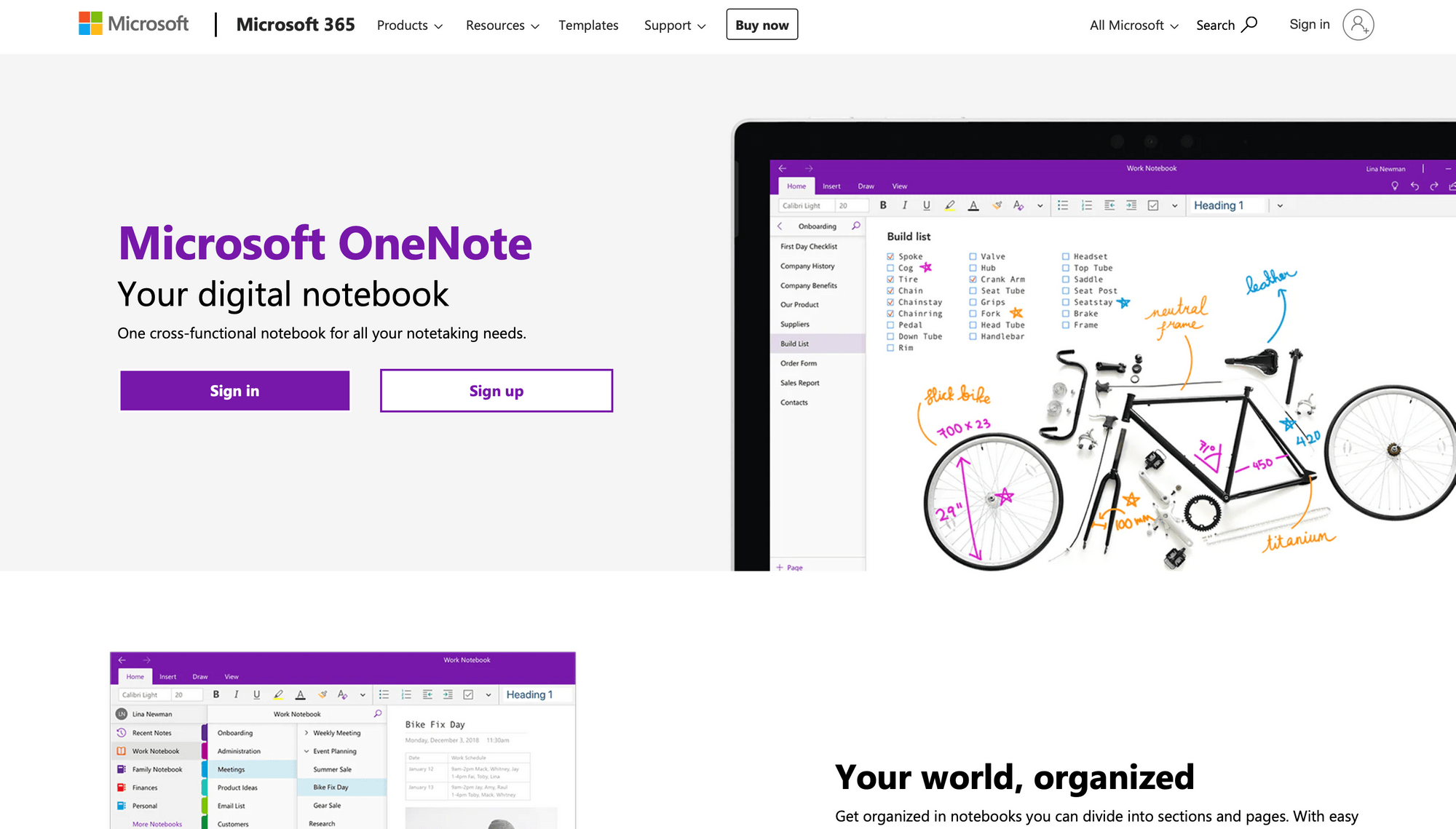 OneNote's pricing is completely free, but you do need to have a Microsoft account.
🔑 Key Features:
Uses OneDrive for data storage
Wide variety of supported content types
Clipper tool to capture page selections, videos, text, and more directly from webpages
😍 What We Liked:
Integrates seamlessly with other Office 365 products
Intuitively designed to be used like a notebook
Free for all Microsoft accounts
😐 What We Didn't Like:
Limited third-party integrations
Linear organization structure
No API
💭 Overall Thoughts:
Users using Office 365 products and operating within the Microsoft ecosystem might find OneNote to be a great addition to their arsenal, especially since the interface will be familiar and easy to pick up. However, the tool itself is relatively limited and leaves little room for customization. Teams and individuals that want to build unique workflows and integrate third-party products might find other options more suitable.
Taskade: A Versatile Tool for Remote Teams
Taskade brands itself a second brain for your team—and it has the features to back it up. Aside from classic note-taking and task management capabilities, it has advanced collaboration features such as chat, screen sharing, video conferencing, and calendar sync. These real-time communication tools reduce context switching and can be helpful for remote teams.
Projects can be viewed in a variety of ways, including lists, boards, calendars, and mind maps. Users can also customize their workspaces with different templates, logos, and backgrounds.
Teams can add apps like Gmail, Google Drive, and Wordpress to their Taskade workflows, but there aren't too many third-party integrations as of yet.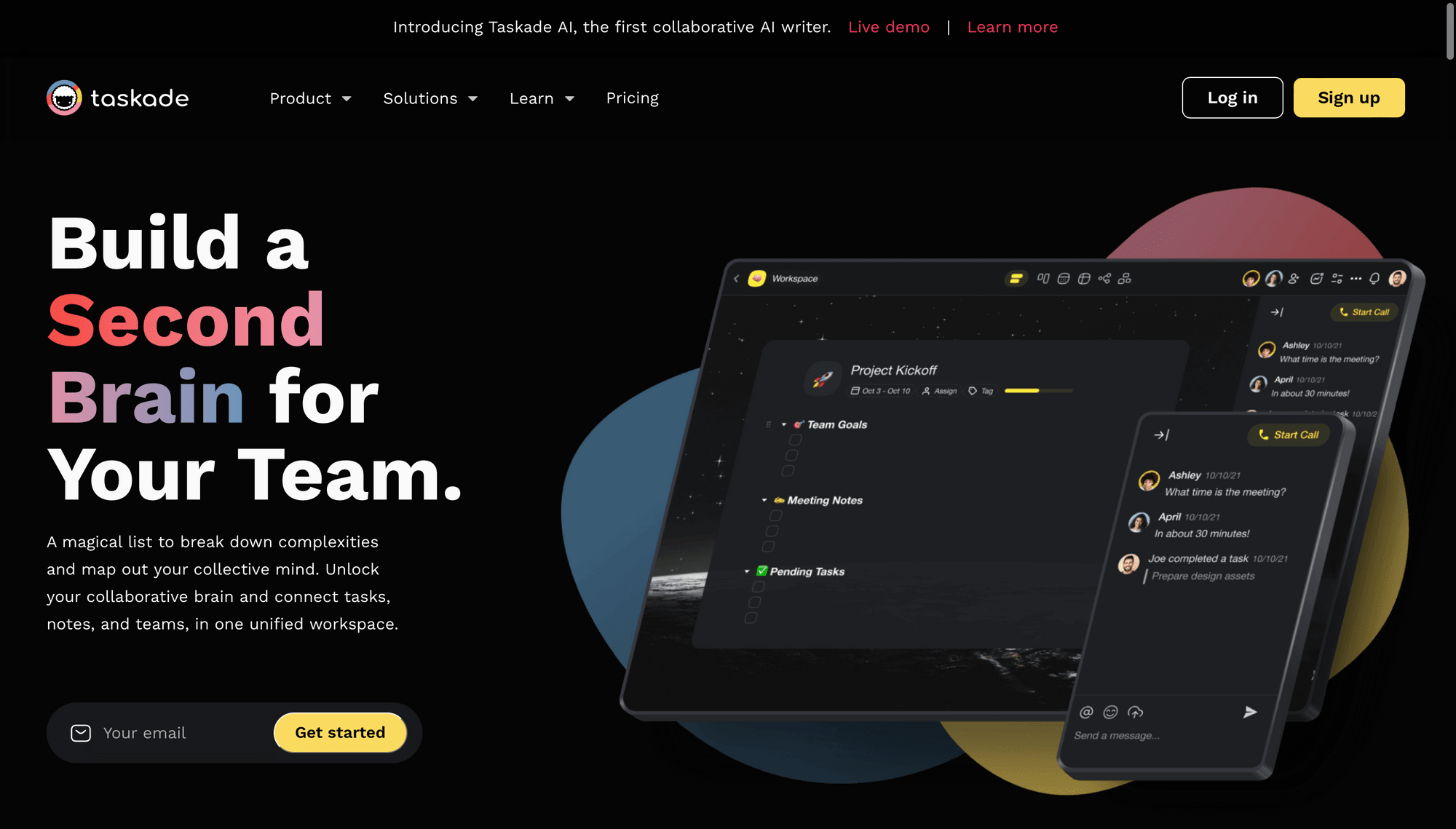 Taskade has a fairly generous free plan, and the pricing for their first paid tier is still affordable at $5 monthly per user. Organizations that require more security and features pay $20 monthly per user.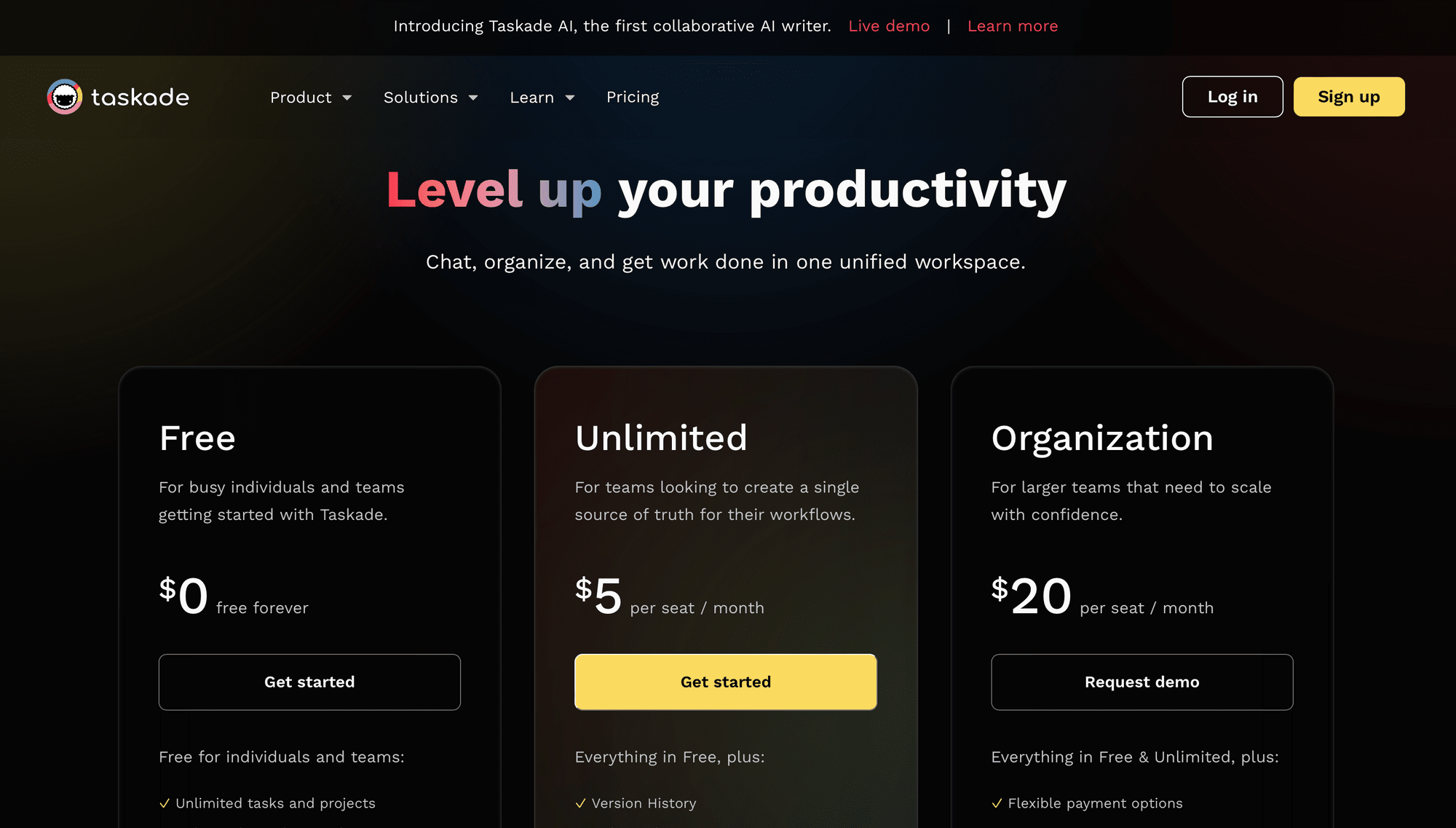 🔑 Key Features:
Drag-and-drop interface
Collaboration features (chat, screen sharing, video conferencing, calendar sync)
Collaborative AI writer
😍 What We Liked:
Real-time collaboration features reduce the need for other communication apps
Supported on a variety of devices (Android, iOS, Mac, Windows, Linux, Chrome, Firefox, Edge)
😐 What We Didn't Like:
Limited third-party integrations
Lack of flexibility outside of task management
💭 Overall Thoughts:
Task management is Taskade's strength, and the tool enhances collaboration for remote teams. Harder-to-find features like time blocking, data visualization, and AI writing supercharge the app and give it an edge over competitors. However, it does not have as much to offer when moving away from to-dos and task management. Asynchronous teams and those that need more flexibility might prefer a different option.
Selecting the Best Knowledge Base App for You
You can build a network of information in so many different ways, but the right tool helps you visualize it in a way that is most meaningful to you and your team.
Notion is a reputable and flexible cloud-based tool that can be integrated with hundreds of other apps to build custom workflows. Even so, there are many other competitors that have a slightly different approach to the solution. Considering the options available will help you select the most suitable knowledge base app for your needs.